Observatory Saltsjöbaden and its astrograph
---
A visit to Saltsjöbaden's Astrograph
---
2: The excursion to Saltsjöbaden
We decided to visit the observatory in early August 2007. This is in early June and I have time to plan, investigate and collect info material before the visit to the astrograph. In early August, it was time and I took the train out to Saltsjöbaden, we meet at Saltsjöbaden railway station where Nippe was waiting with his car. This day there was heavy dark clouds and maybe rain later. The main reason for my visit to the astrograph is to take photos inside so it didn't matter.
We drive up the steep road to Karlsbaderberget (Karlsbader mountain) where the observatory is located, parking the car at the main building. It is now a construction site when parts of the old observatory is rebuilt to be a school house. We take us ahead building materials and other debris lying in our path towards the backside where astrograph building stands. It's obvious that it's been some years since I studied here. The paths are grassy and trees have grown large, hanging over the walkway like a ceiling.
Now it's not a long way to go and the beautiful building reveals itself. The building was erected in bricks, parts of the ceiling of the copper plate dome seems to have been replaced in recent times with a galvanized plate. Maybe just as well because Nippe was concerned about that some "copper thieves" took parts of the copper roof of another observatory building.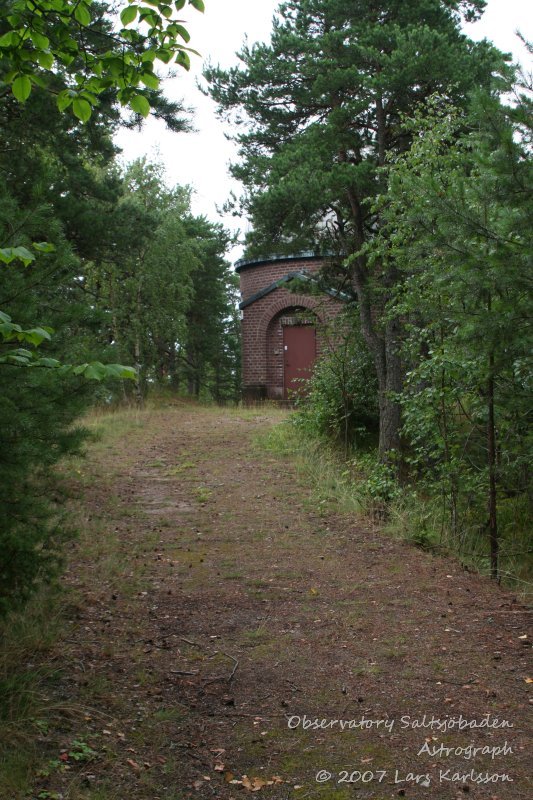 Karlsbaderberget where the observatory is located is a natural beauty. Maybe a little too much natural beauty, the building will soon disappear in the jungle.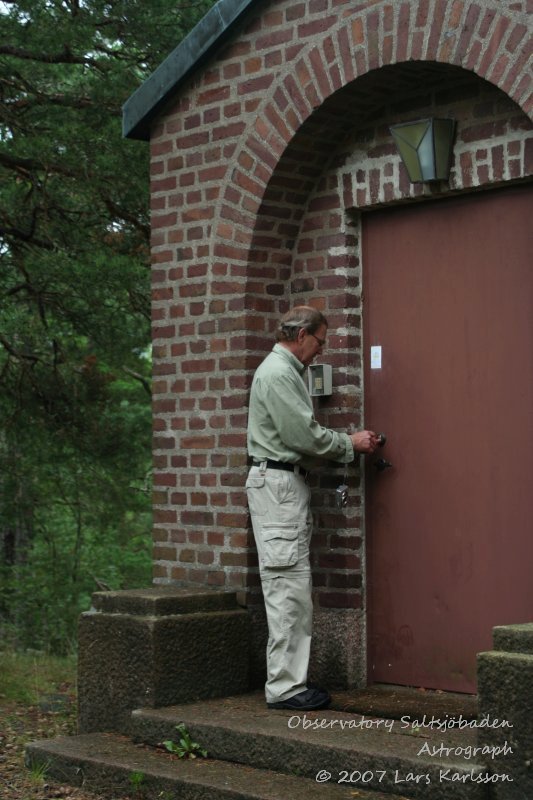 A great moment for me when Nippe unlocks the door to the astrograph.
I will first get to see in here. With the door wide open I get my first look into the most sacred. Thinking quiet as someone once said, "I see wonderful things". Then you first come in to the astrograph's "engine room", what we find there you can read about later in the text. Now we go back in time to find out how the observatory ended up out here in Saltsjöbaden.
---