My astronomy project:
Big Binoculars
---
Binoculars 25x100
---
1: Binoculars
Note:
I take no responsibility or liability for what are written here, you use the information on your own risk!
When I was out on a cruise on Baltic Sea I got a message that a package was waiting for me. Later when I got home, I immediately went to the post office and picked up the package. See what happy a man could be when receiving new toys :-)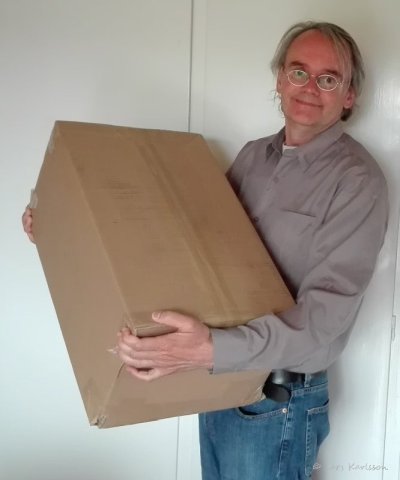 My earlier binoculars was a 8x21, very easy to bring with you on travels and pretty good optics too. But as you see of the size of the box above this must be something bigger.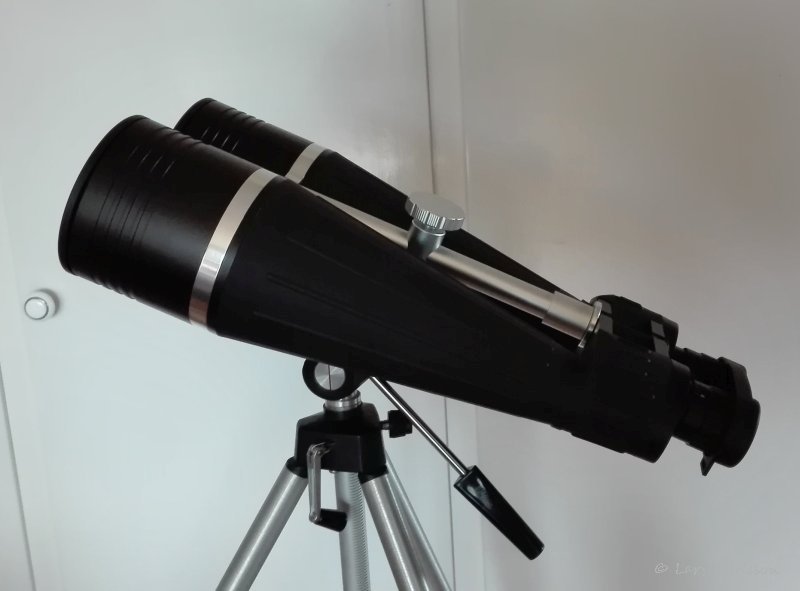 This is a Helios 25x100 binoculars, it's like two 100mm refractors!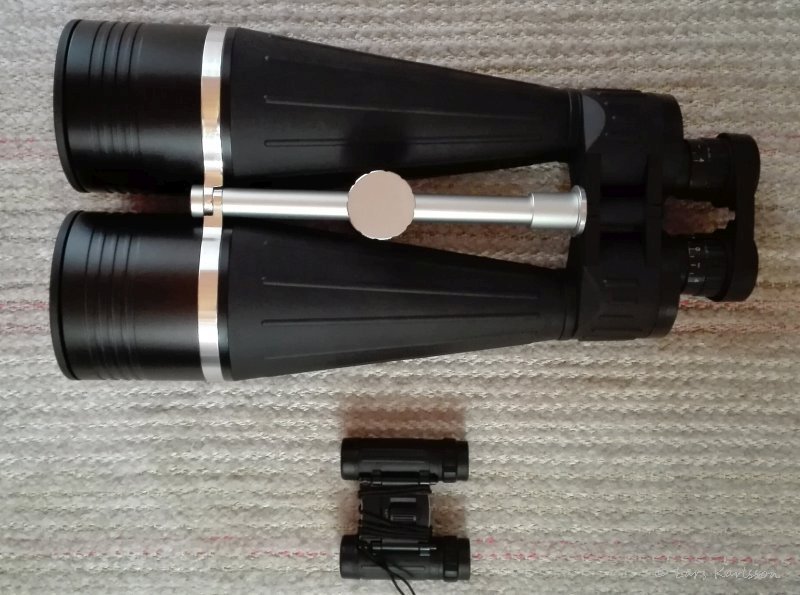 Compare the sizes of the two binoculars, 25x100 vs 8x21. About 8 times more expensive and 20 times more heavier!
I have never been a fan of visual observation, but now I'm curious to give it a chance.
Back to contents
---
2: Binoculars mount
This binoculars has a weight of 4.5 kilo and can not be handheld. It must have a sturdy tripod or something similar to hold it stable. My photo tripod you see above is too weak.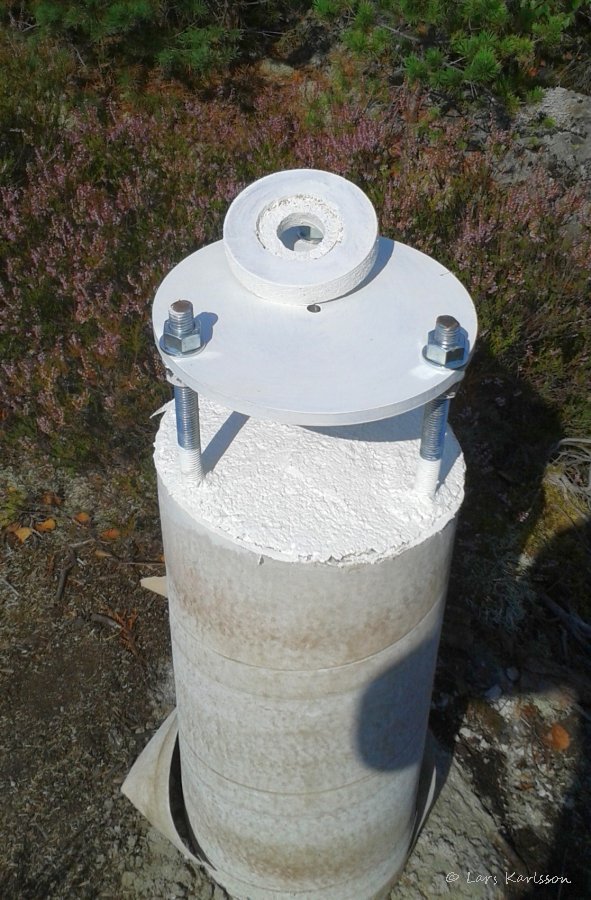 Earlier in my pier project I already had a big binoculars in mind so I built two piers. Now it's just the problem how to mate the binoculars together with this pier.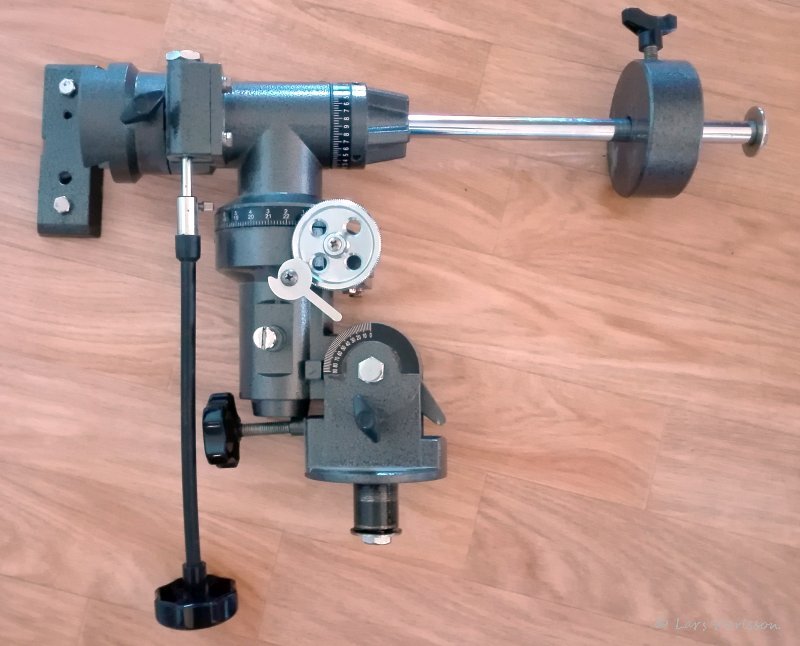 Maybe I can use this EQ2 mount hat I just have bought, or I build DIY parallelogram mount to hold it.
Something like this:
I think this binoculars will have a field of almost 3 degrees, about the size of Andromeda galaxy. After a test outdoors I'm impressed of the optical quality, because this is just a very cheap instrument and I didn't expect very much from it. Where there is heavy contrast you can see purple fringes, this is not an APO binoculars of course.
Back to contents
---
3: Binoculars mount another idea
After a lot of reading at forums I got ideas how to build my own mount to my big binoculars. This is my interpretation of how it could be done. First I have to solve how to rotate the binocular mount easy around the pier. This is what I bought to handle this problem, a caster wheel.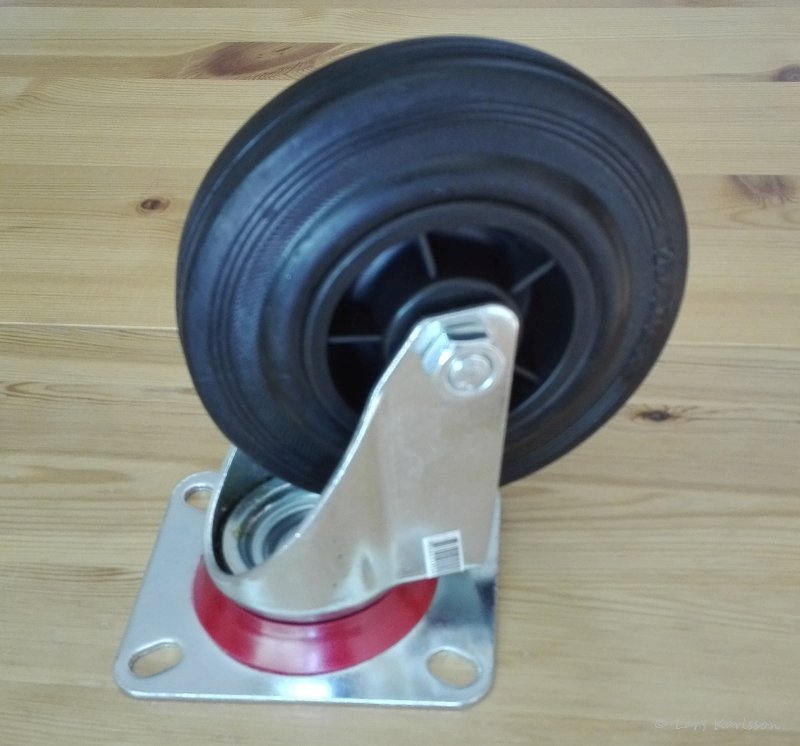 This caster wheel has a double roller bearing. My idea is to mount this with an extension on my pier. One problem, when mounted upside down like this the roller bearings are not protected from rain and water, I have to fill it with a lot of grease.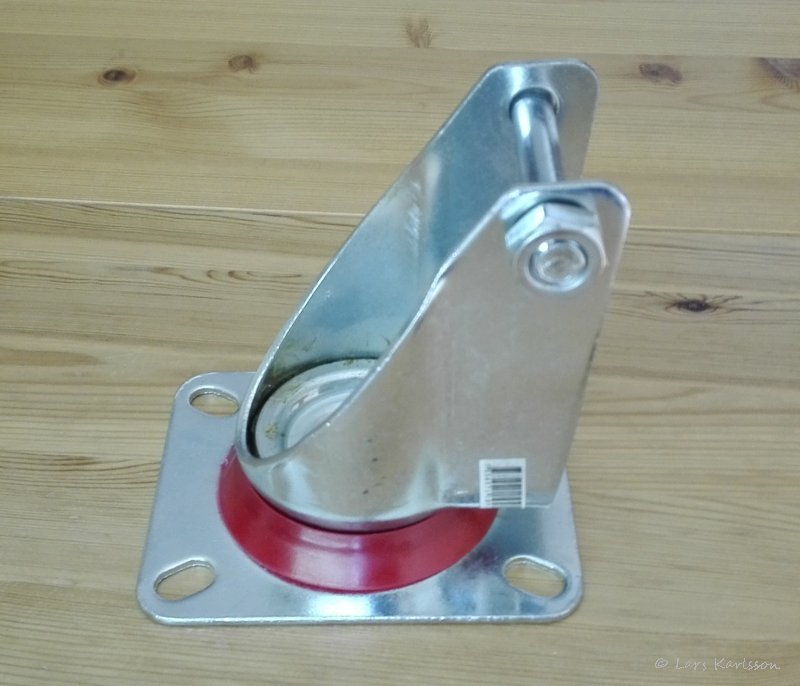 No need of the wheel, here I will mount the arm that holds the binoculars. If I need two arms there is space for the second arm too. The U-gap is 43mm.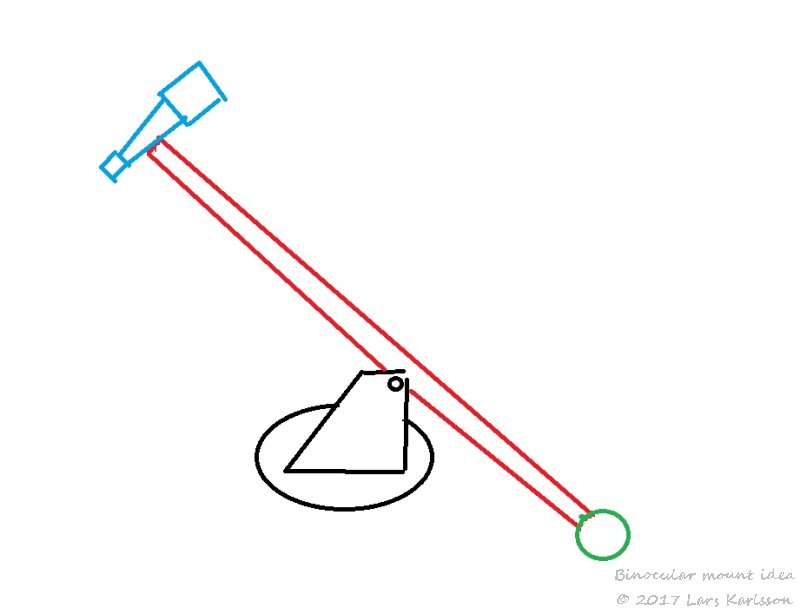 This is how it will look if I got it to work. If I want a parallelogram mount it's easy to built it like that too, just ad one more arm. The green ring is a counter balance weight, about 10 kilograms.
With this construction I don't get the fine adjustment I thought about with the EQ2 mount. I don't have any experience if this is a must with 25x magnification. But this is easily to built so I can just built it and test it. I plan to have something like a handlebars from a bicycle to maneuver it.
Back to contents
---
4: Test rig
Before I spent to lot of time on this I have to do a test rig so I get a felling about the dimensions. First take a look at the pier again.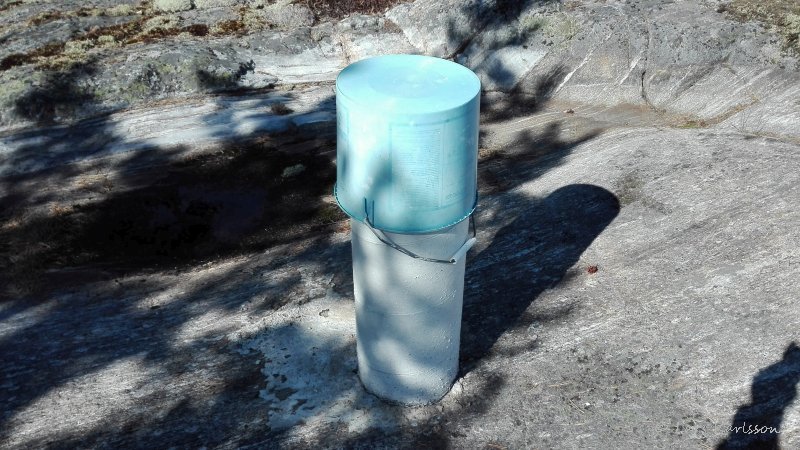 Still the hood in place and protected against weather.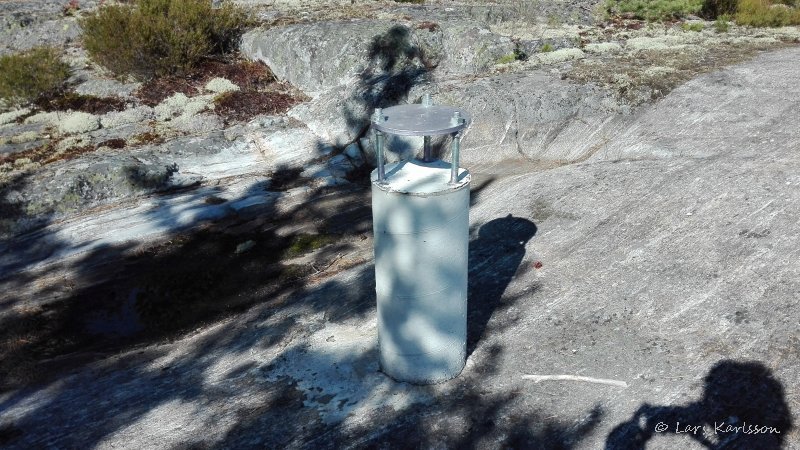 No damage to it during the winter.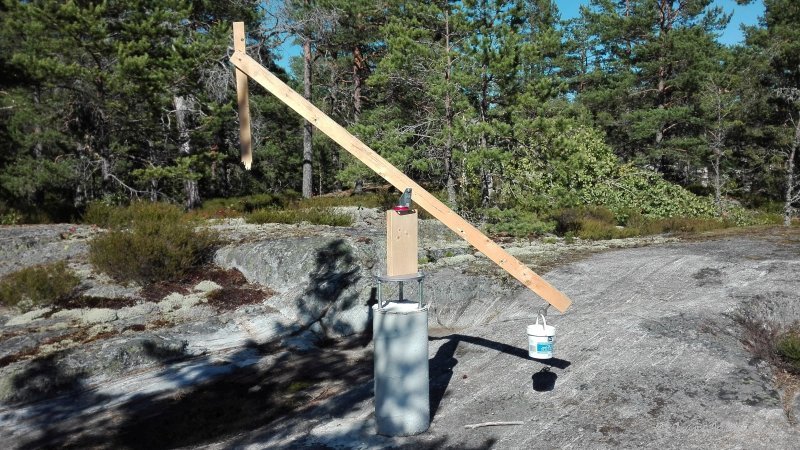 This is about my idea how it shall look. It will be used when standing up. Binocular at the left and balance weight to the right.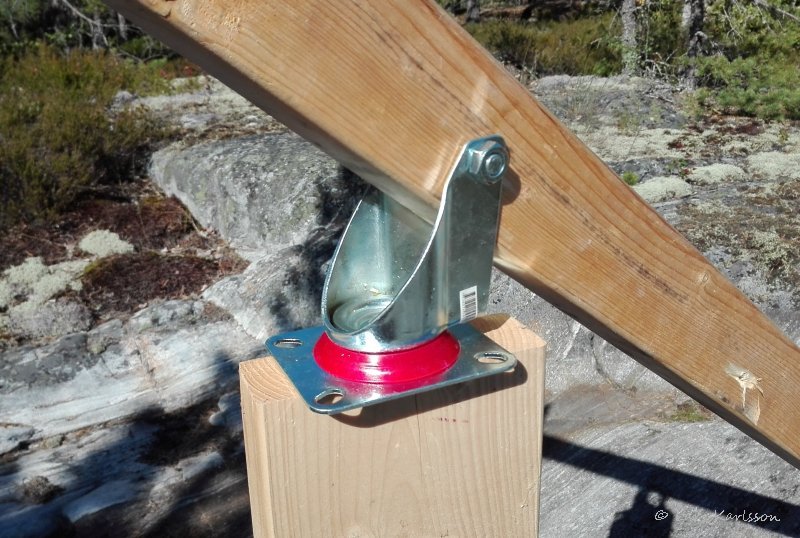 Close up of the caster wheel. I need a distance between that and the pier to get it high enough.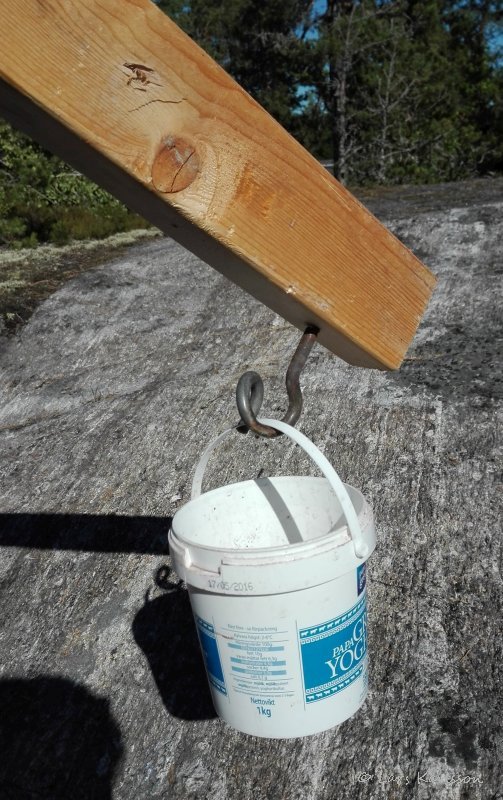 Now in the beginning the balance weight will just be a buck filled with stones.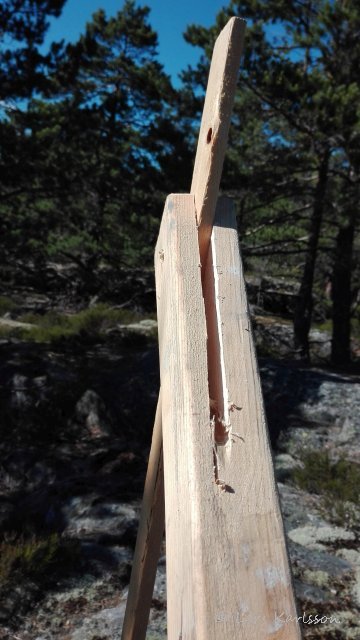 This wooden part will be replaced with one in steel. It will hold the binocular with a standard 1/4" camera mount bolt.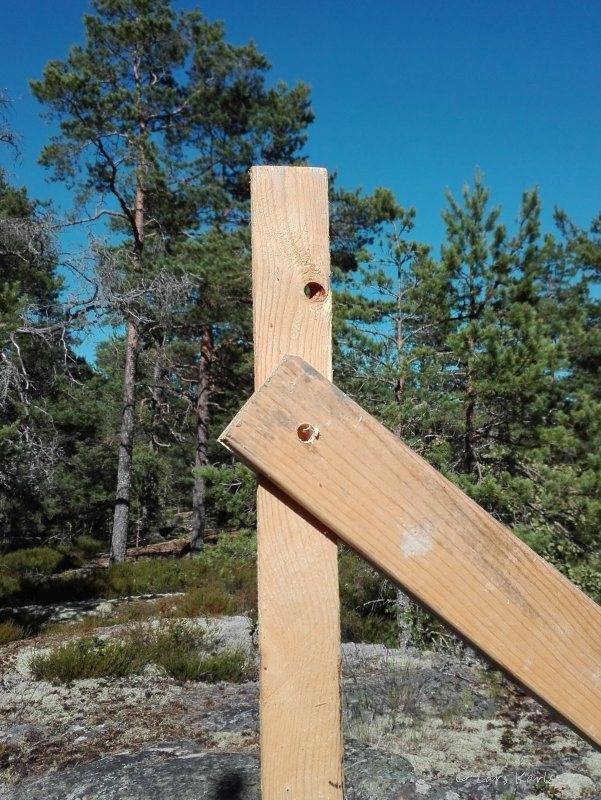 As it now it could be difficult to aim it at higher altitudes. I think I must have a bent at the end of the arm. If I built it as a parallelogram it will not be a problem.
Back to contents
---
5: Wooden distance between pier and binocular arm
Here I have built a simple wooden distance to raise the arm that holds the binocular.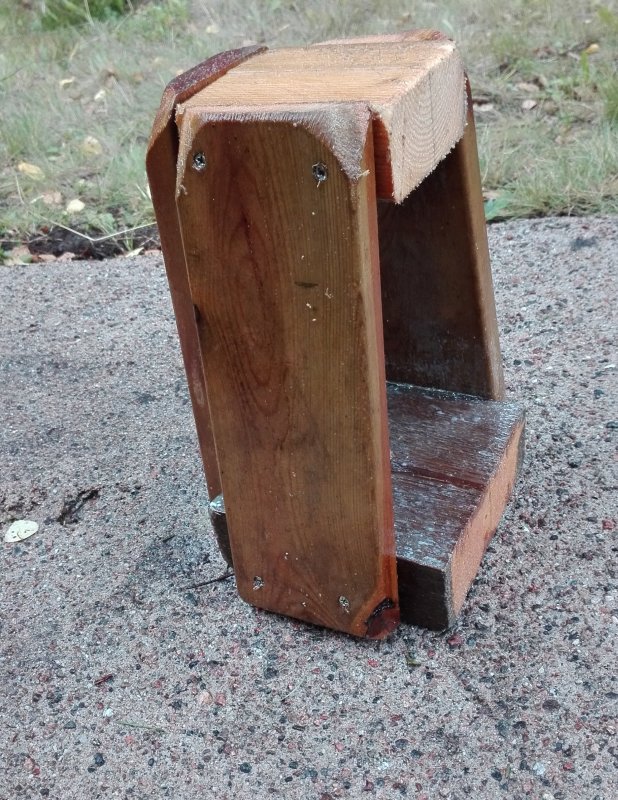 The lower base will attach with a M10 bolt to the pier and upper base will hold the caster wheel that I use as a roller bearing.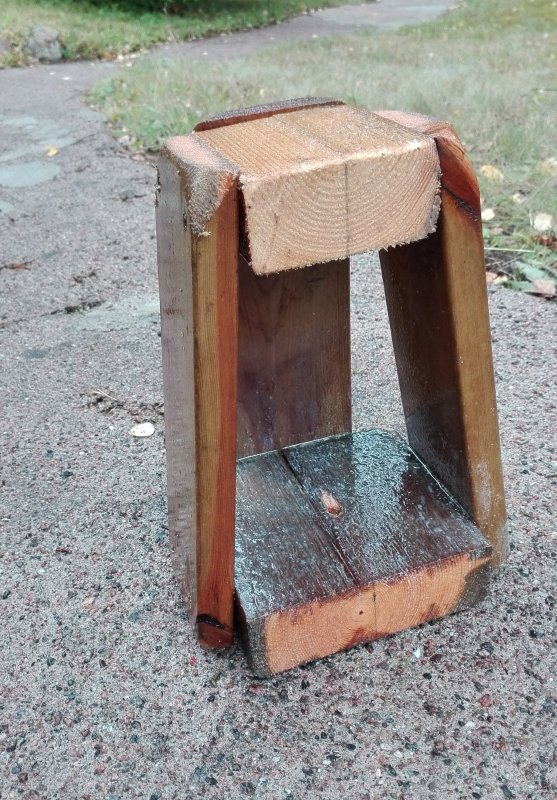 Open on one side to reach the bolt. Lot of wooden oil to protect it from water.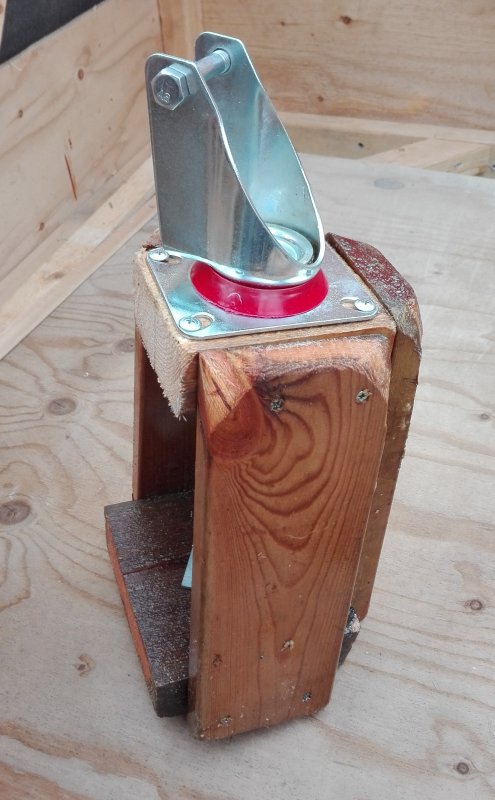 Caster wheel mounted and the wheel taken away.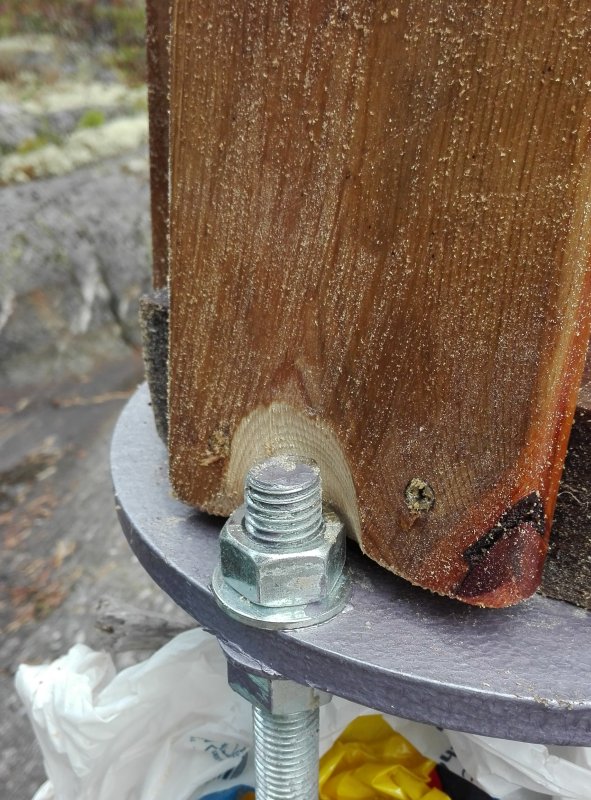 It's tight at the top of the pier.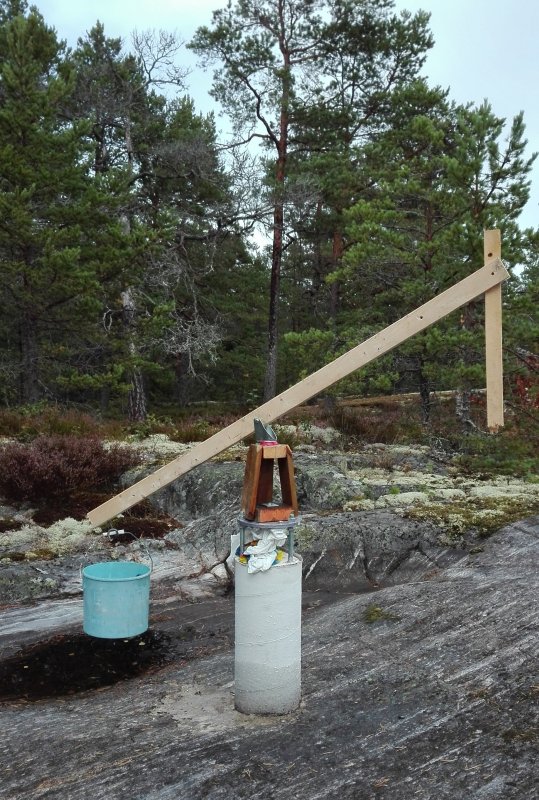 Here how it looks. Now it just need a counterweight to the left and to the right a holder to the binocular. It can be used for from one meter to two meters persons and hold the binocular in correct height, when changing direction, just walk around the pier.
Back to contents
---
6: Binocular holder and First Light!
At last I found something that I can use as a holder to the binocular, a bicycle hook!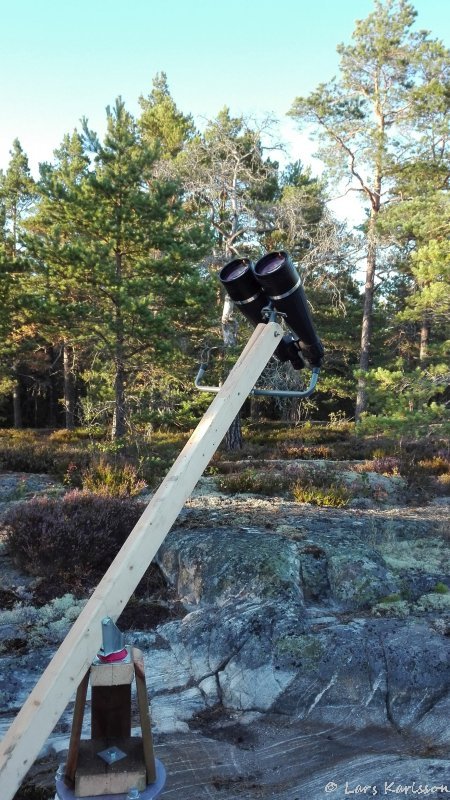 After a small modification of the bicycle holder it looks that it has manufactured for this purpose from the beginning. The two hooks I use as a handle to maneuver the binocular, very handy.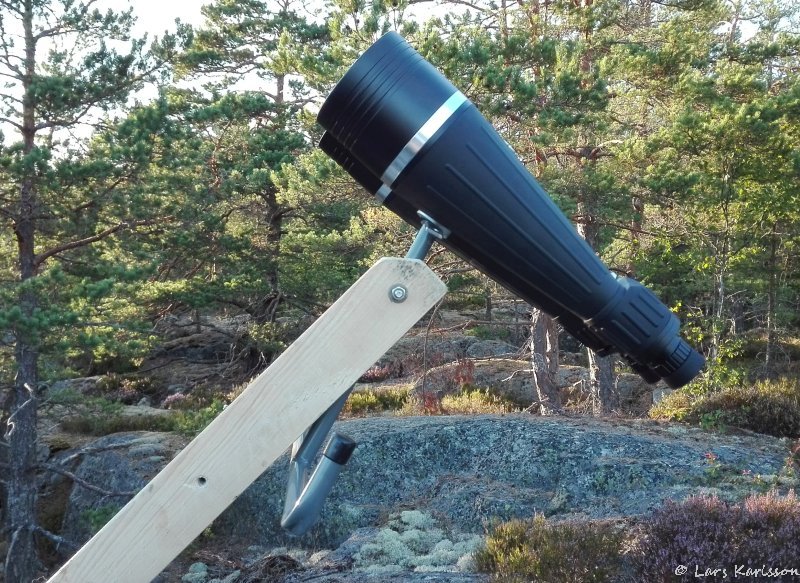 As it now I can't reach over 45 degrees, and my neck makes pain if I try. But the binoculars with angle oculars was too expensive and I'm not a big fan of visual observing.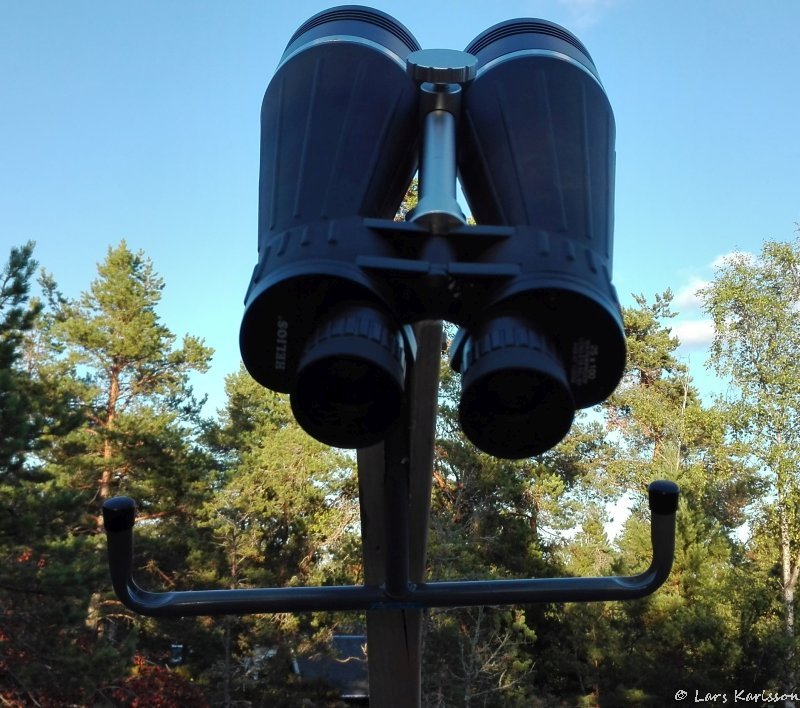 The first object we looked at was the Moon, what a exiting view. It was a weak green ring around the edge, but didn't disturb very much. That's what to expect with a cheap binocular like this. It was very fun to maneuver around in the star fields.
Now I just have to fine adjust some details, the counterweight must be replaced with a more safe construction than the buck filled with stones.
Back to contents
---
back