My HIFI systems 1970s to 1980s
---
Content:
Note:
I take no responsibility or liability for what are written here, you use the information at your own risk!
What I'm writing here are not about any fancy super HIFI equipment but something that was important for me, to built something by myself.
---
1: Mono HIFI, early 1970s
My parents music system:
This was what I grew up with, my parents radio furniture. It had a radio with LW, MW, SW and FM radio band. It also had a turn table, it could play 33 1/3, 45 and 78 discs with a changer system. I don't remember of what model it was, Philips was common in Sweden so it could be that. Very exiting was the green cat eye which was used when tuning in the radio station. The photo is taken 1965 but they bought it much earlier. My older sister remember my father playing the 78 rpm discs, one of the was Jussi Björling's Till Havs (at sea), he was a very famous Swedish singer all over the world. She also remember all the colorful labels on the discs from the different manufactories of the discs. At that time, 1950s, we only had this radio, and no TV. 1968 I got the the Jungle Book from my other sister, a LP disc, the first in the family ?
More information about The Jungle Book:
Teenager:
As a teenager and no job or salary I couldn't buy what I wanted. Everything related to HIFI was so expensive in that time. But I was very interested in electronics and had dreams of building my own HIFI amplifier. I study electronics at high school and got a new friend who learned me a lot, he had a Ford Mustang too which of course also was very interesting.
Vacuum tube amplifier:
The first amplifier was a vacuum tube equipped amplifier. I got that amplifier from a friend, it had four 6V6GT tubes in a push pull design. That was the power amplifier, the output power was about 15 Watt. That tube was introduced already 1936 and its a "beam power tetrode" vacuum tube. In it's earlier life the amplifier had been used in a jukebox. Its power input was 110 Volt AC which they used in U.S. I had a transformer that convert the 220 Volt AC which we have in Sweden to 110 Volt AC. Later I rewound the amplifier's transformer to accept 220 Volt direct without the extra transformer. I built a new chassi for it and replaced the vacuum tube rectifier with solid state diodes.
More information about the vacuum tube 6V6GT:
When interested in Solid State electronics I of course wanted a solid state amplifier with two channels. Today vacuum tube amplifiers are hot and collectable, but not in that time.
Speakers:
I needed a speaker to it. My first speaker was an ortho dynamic speaker with name Popboxen from 1964. It looked like a Carlsson OA5. Bought it from a friend and it was only one speaker, but the vacuum tube amplifier only had one channel so they matched each other. My sister bought it later from me and had that speaker until 2021 when I helped her to sell it.
More information about Popboxen:
Vacuum tube tuner:
As sound source I had a vacuum tube FM radio, looked like a bread toaster. It was an add on for those radio that didn't have the FM band.
Now I at least had something and I had built it partly myself, maybe not HIFI but for me it was. It's very sad that I don't have any photo of my early equipments.
Turn table: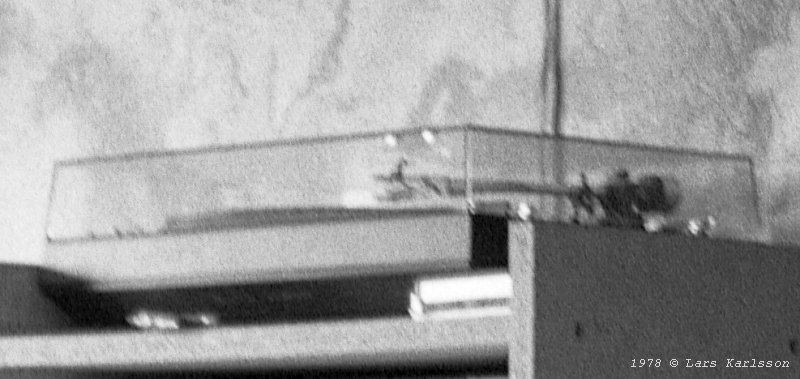 In the 1970s the Japanese HIFI equipment got better and better and they were cheap too. Technics had introduced its direct drive turn table SL-1200 in 1971. Very expensive but with a direct drive it was attractive, nothing that I could afford. Three years later the model SL-1300/1400/1500 came and at a much lover price. I bought a Technics SL-1400 which was a half automatic model. No belt drive that could cause problem like rumble, the disc is a part of the motor. This was 1974 because I remember they played ABBA's Waterloo which won the European Music festival that year. I bought it at Åhlens in Stockholm city. When I looking in the manual I got surprise, it has a weight of 8.1 kg, I don't remember that it was that heavy.
More information about Technics SL-1400:
At that time I didn't have a RIAA corrected pre amplifier which was needed to amplify the weak signal from the turn table's pickup. It put pressure on me to build such a preamplifier. On the right side at the photo above, an antistatic brush, an important accessory to keep dust off the disc.
I bought some vinyl discs but couldn't play them until the pre amplifier was built. One of the more memorable vinyl disc I got was the Boney M, Daddy Cool, a present from my mother, that was 1976, the disco era.
Dreams:
In 1974 a Swedish magazine, Radio Television, had an article about a DIY power amplifier project. That inspired me to plan how to built an amplifier like that in the future.
---