Car meeting at The Nut House 2020
The beautiful old classic cars
---
From a friend I got the information about a place where they have car meetings. I had never heard about it, but later when I read about it I see that I have driving by it many times.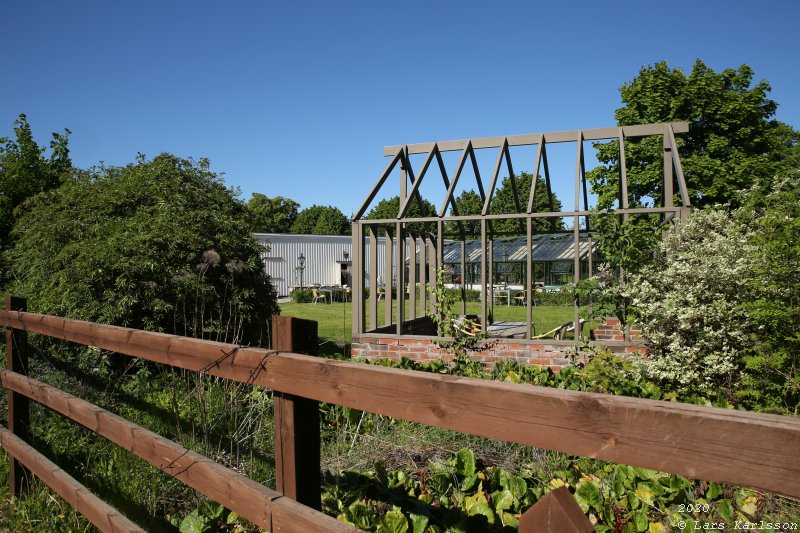 I came very early, long time before the meeting starts. The gate was closed and I parked my car on the regular parking lot. Already from here I see that this is a nice place.
You have more information about The Nut House car meetings here:

https://www.lisa.se/
(The Nut House)
You find this place about 20 km North of Stockholm (Sweden).
---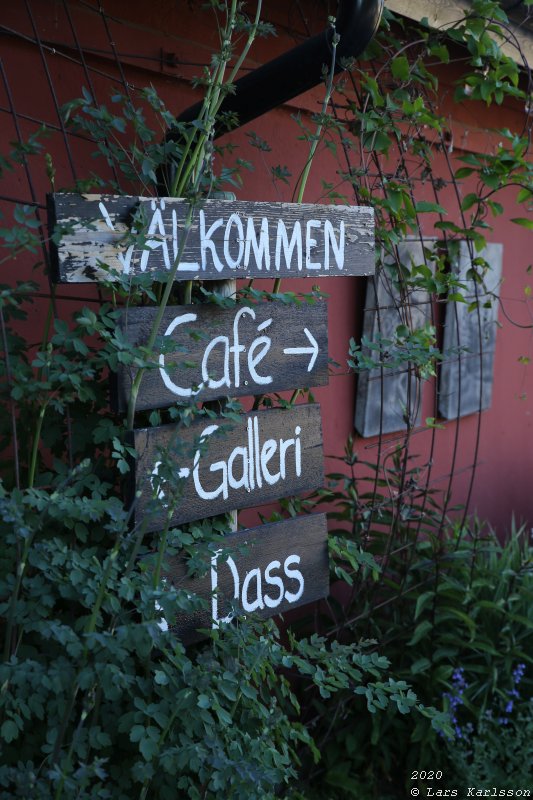 I took a walk and look for the staff. I meet a lady, I think she was the owner of the place. I excused me and told that my car wasn't really that old. She said: As long you love your car you are welcome.
Now it was time to open the gate and I walked back to my car and drove it in.
---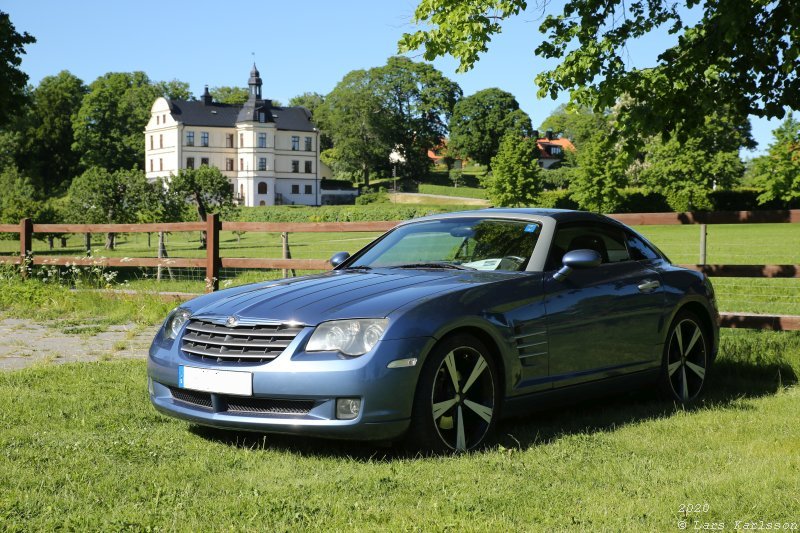 Chrysler Crossfire 2005, my own car with a nice little house in the background.
---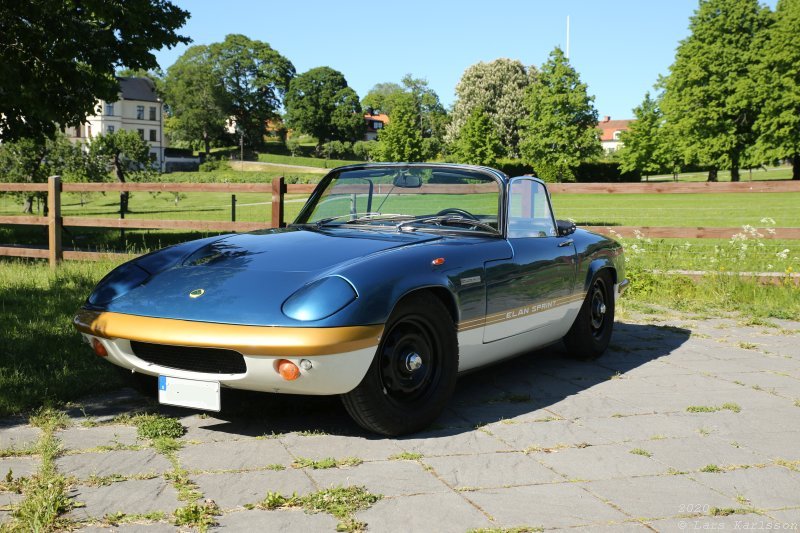 Just after I had parked my car another car arrived. It's a Lotus Elan Sprint from 1973.
---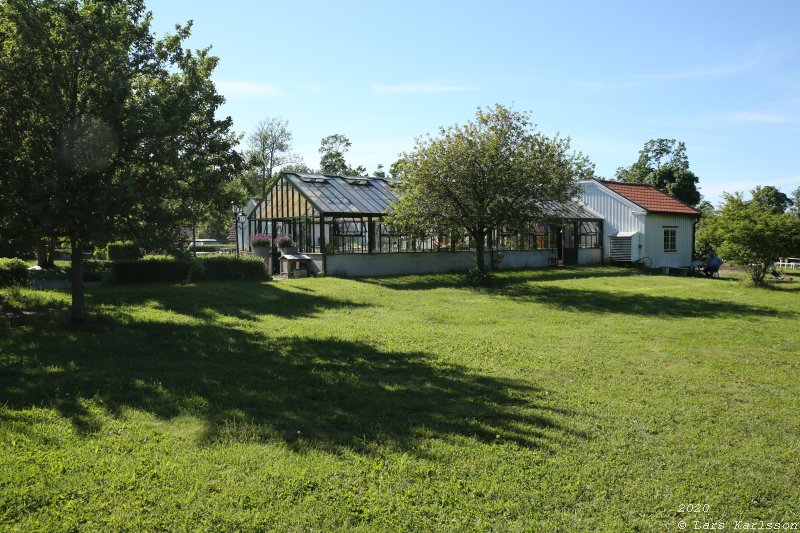 There is space for about thirty five cars here.
Before all other cars arrive I took a walk to see what's in the surroundings.
---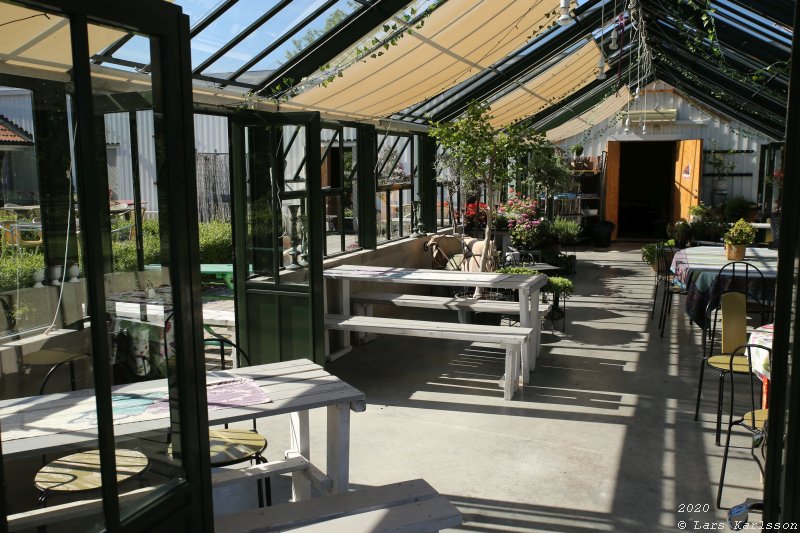 Here is one of the places where you can have a cup of coffee or eat something. The tables are well separated, we have the Corona time now and have a rule that we must keep a distance of two meters between each other.
---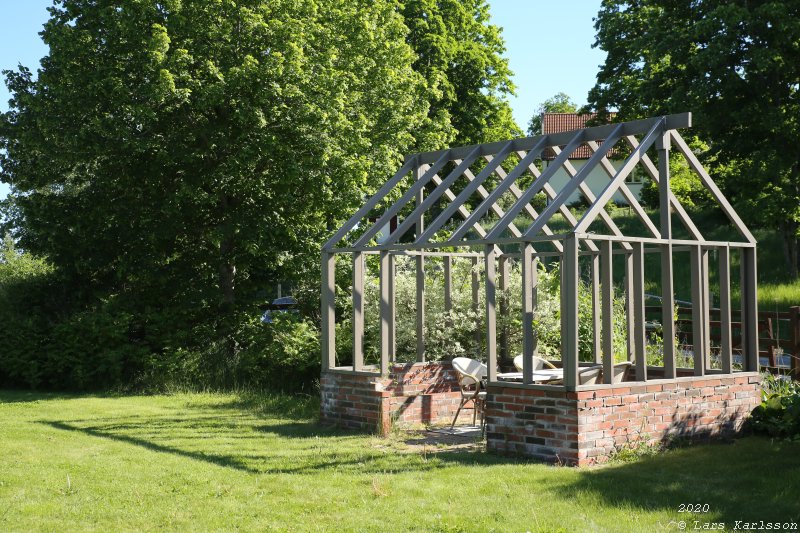 Another place where you can sit.
---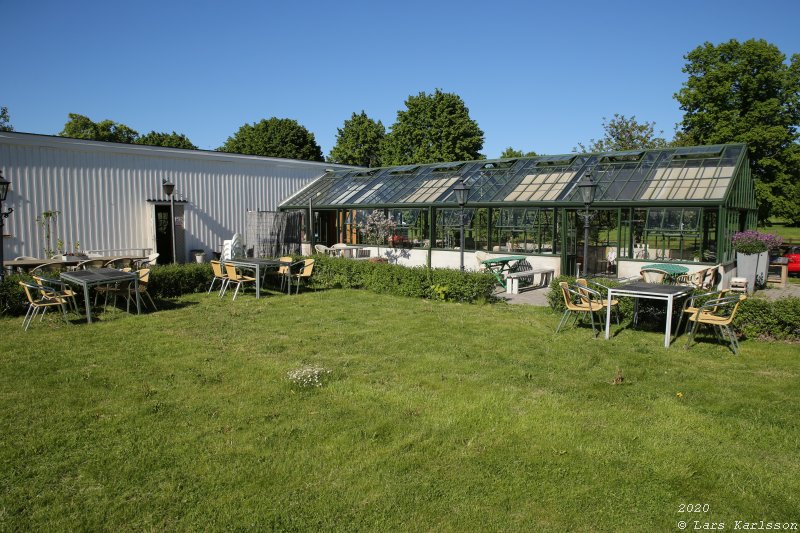 There is also a shop here. Good because if not the whole family find old cars interesting, here they have something more to do.
---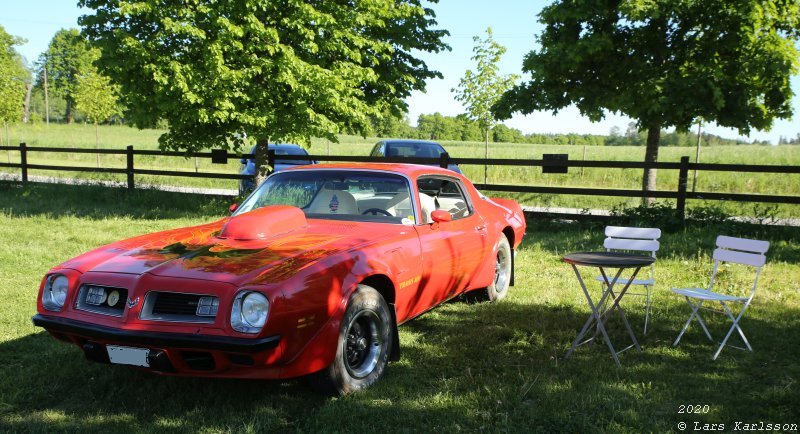 I walked back to the cars. Now a 1976 Pontiac Trans AM has arrived. That was a car that I really wanted back in the 1980s. But it was too expensive and I had to by a cheaper car.
---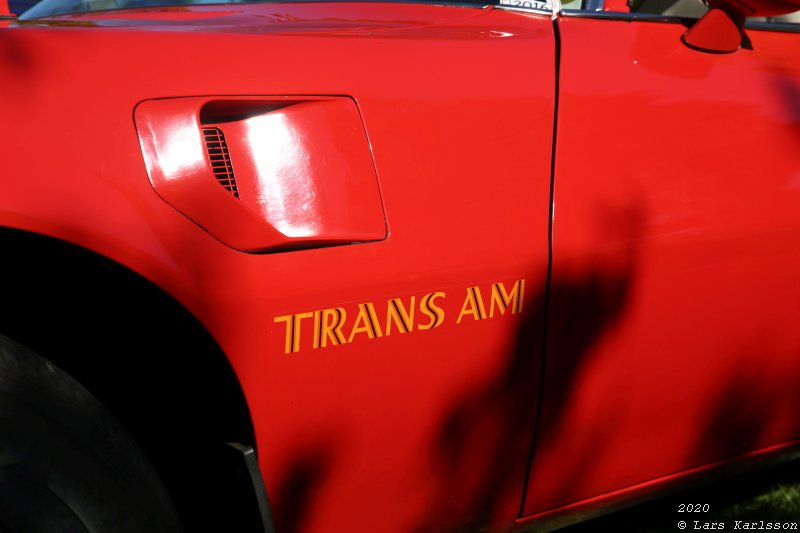 It is these letters that make the car expensive: TRANS AM.
---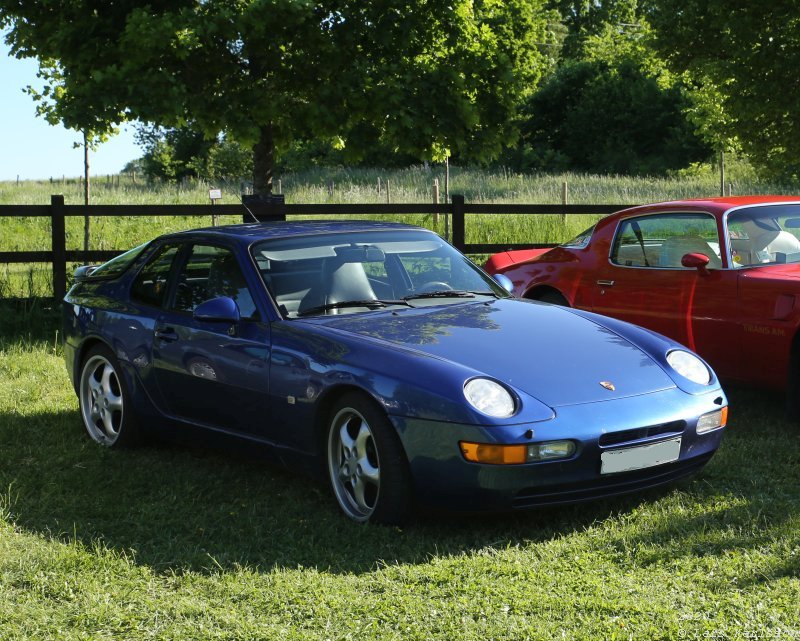 This is a 1992 Porsche 968. This model is a little bit different compare to the regular Porches, it's equipped with a front mounted V8.
---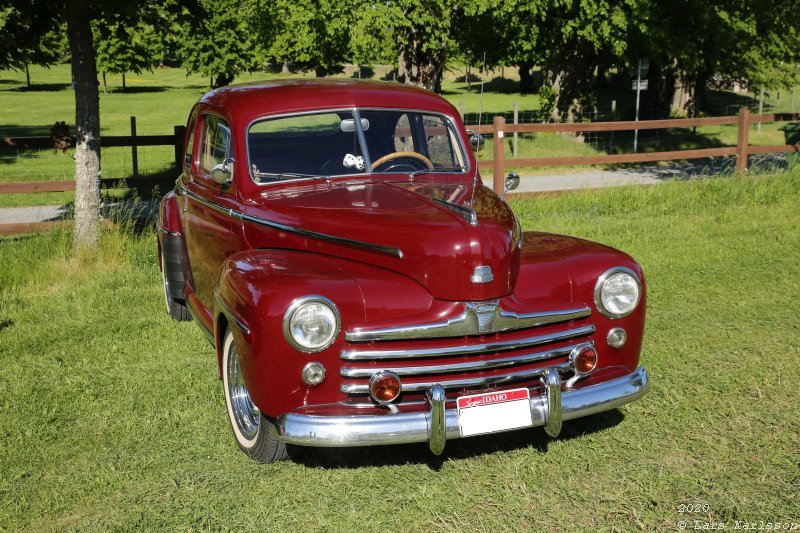 This Ford is much older, it's a 1947 Ford Super Delux. Flat head V8, superb condition.
---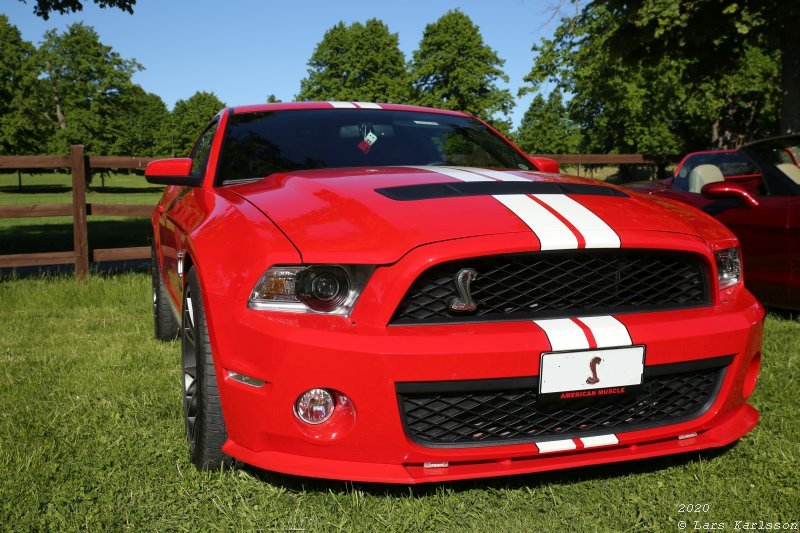 A modern version of the classic Mustang. This special Cobra version has a 5 liter V8 with almost 500 hp. The year make is 2010.
---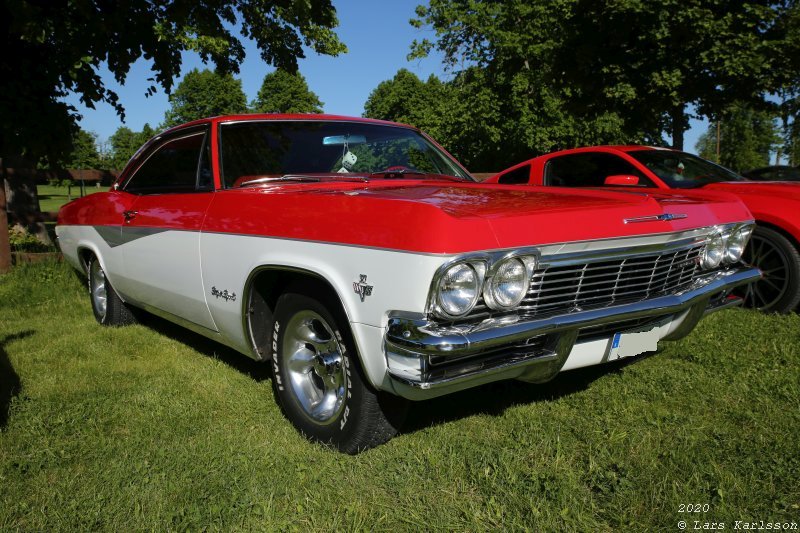 Chevrolet Impala SS Sport Coupe. This car and in this condition many people want to have.
---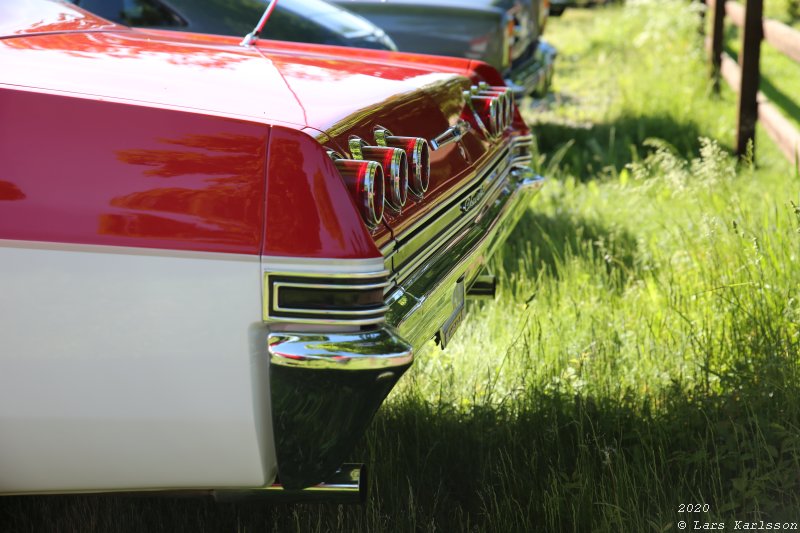 It's only this year, 1965, the Impala has these six round taillights.
---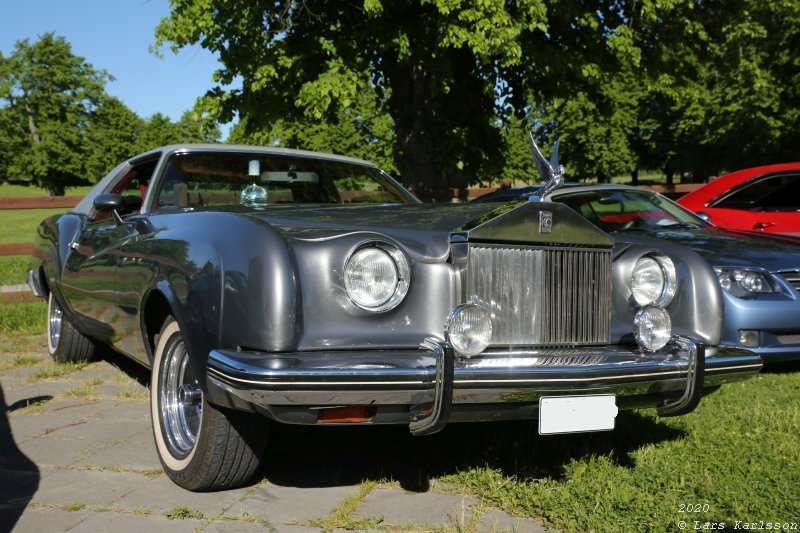 Close to my car this car has parked. I talked to the owner and he told me that this car is built on a Chevrolet Monte Carlo of 1976 years model. About hundred of them where built. It's equipped with 400cc V8. I have never seen this model in real life before so it was exiting.
---
This beautiful old classic Mustang is from 1968. Restored to mint condition.
---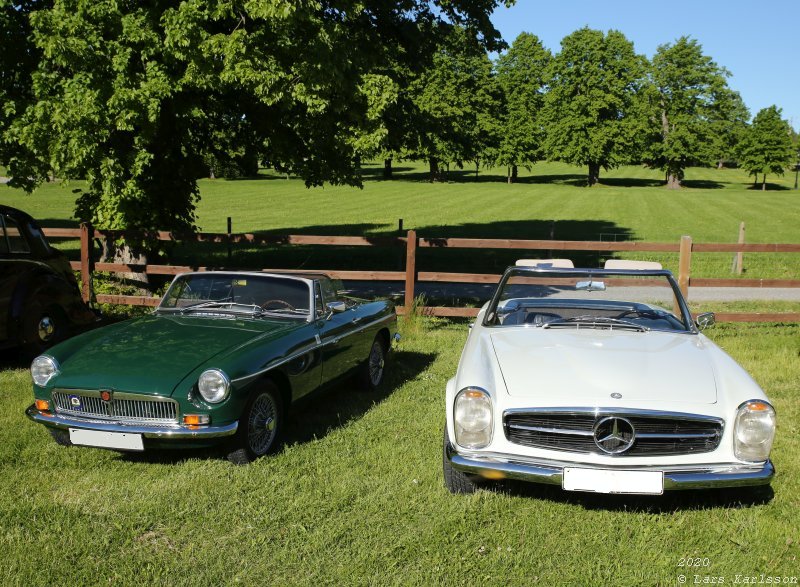 The green car to the left is made by BMC 1968, model 1800 MGB or MG as I called them. A British car where you can find most spare parts to even today.
The white car to the right is a Mercedes-Benz 230 SL, it's from 1968. These old Mercedes are really collectable today.
---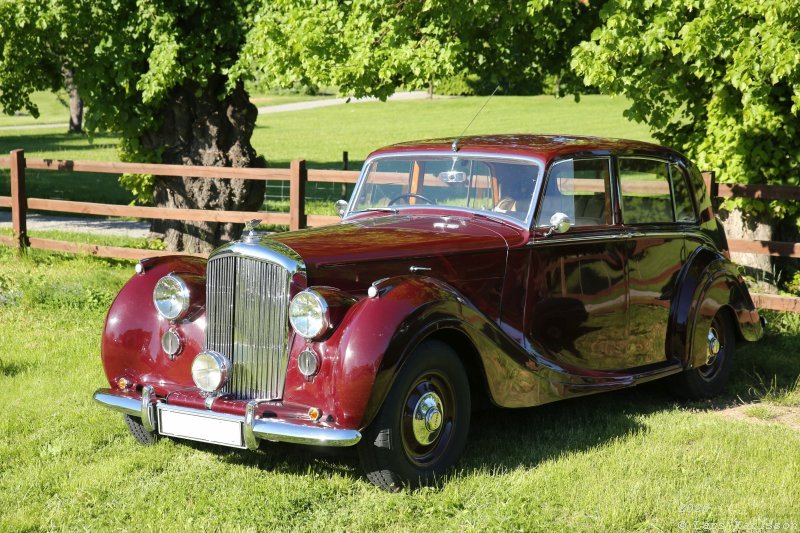 A Bentley MK VI from 1949. The cars from 1940s has really curved forms of the body. A very beautiful old British car.
---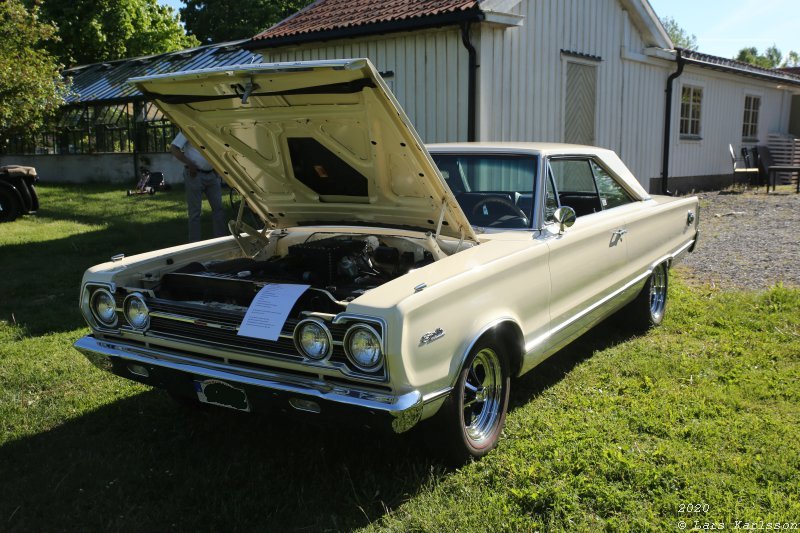 Back to the 1960s, a Plymouth Satellite with a 383cc V8 and some modifications.
---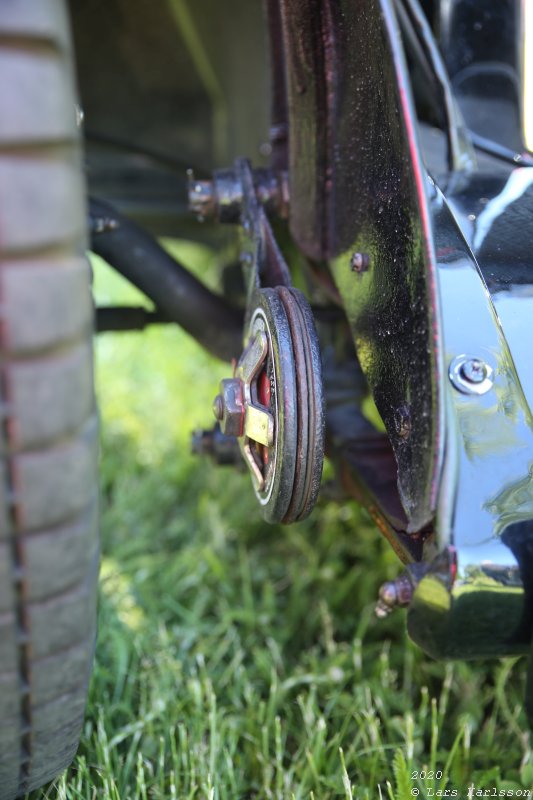 Do you know what this is ? It's a shock absorber on a really old car, it's of mechanical friction type. The car is a MG from 1932.
---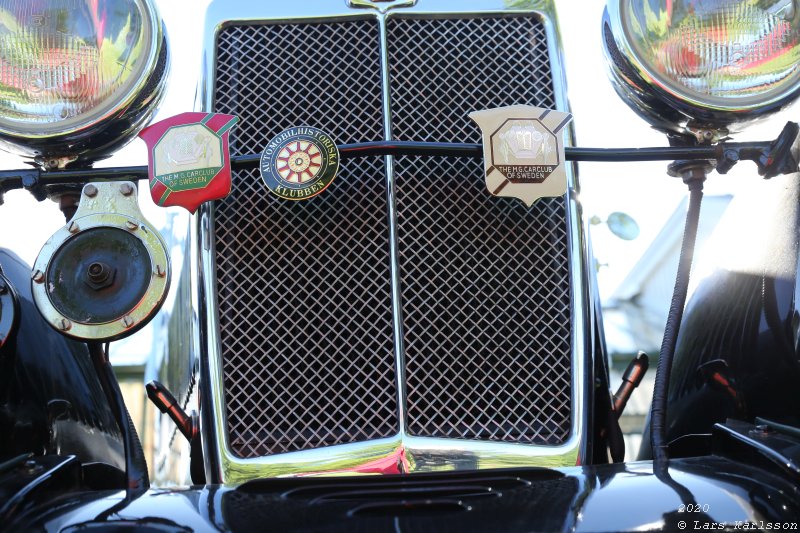 The front of the same car.
---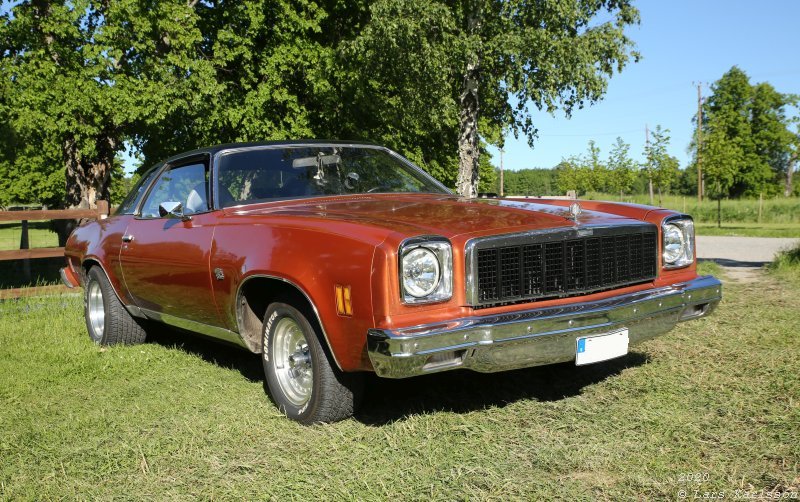 A 1975 years Chevrolet Malibu.
---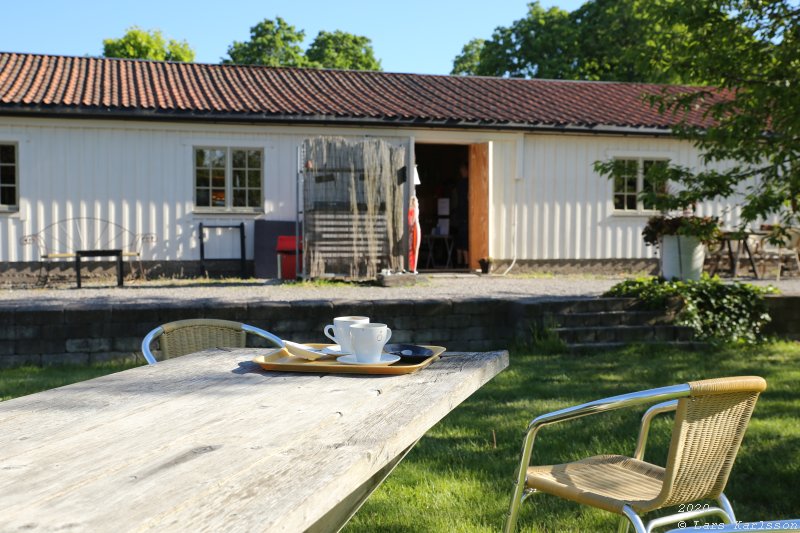 Now my friends has arrived and we started with coffee and sandwiches, we got a table for us alone.
---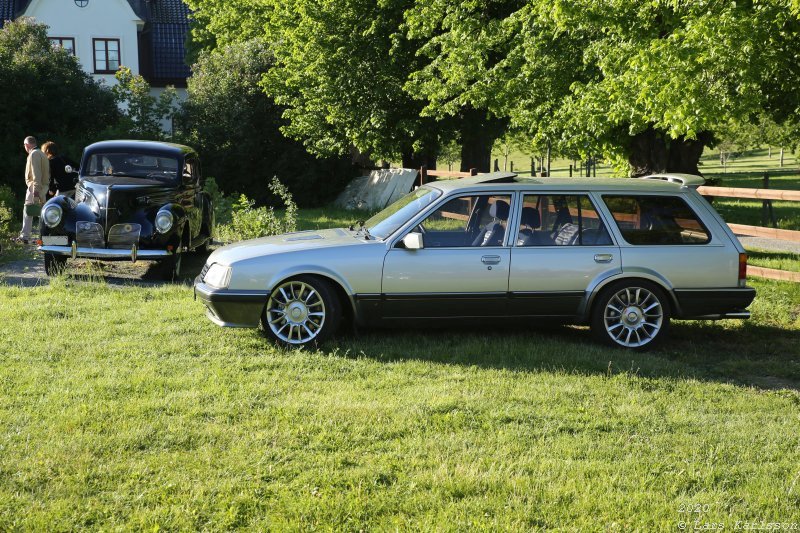 My friends car, a 1984 Opel Monza station wagon, it has a straight six cylinder engine. Top condition. Behind a Lincoln Zephyr from 1938. I think it has a flat head V12.
---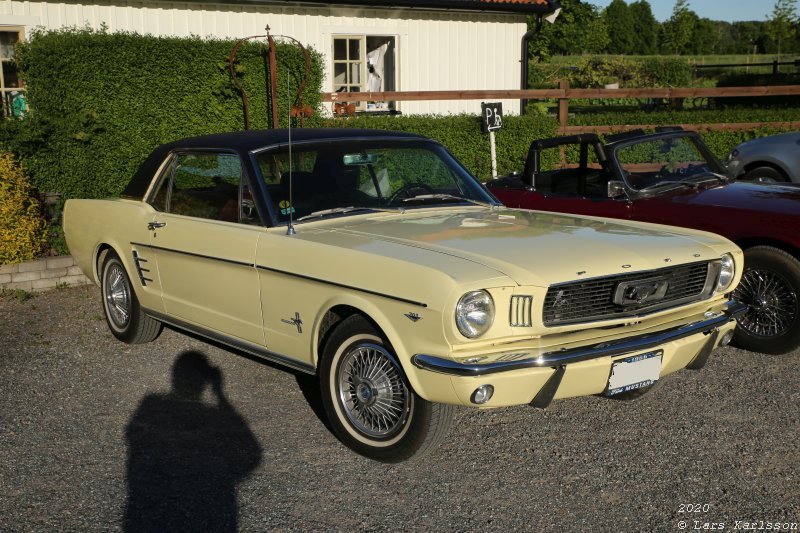 On the other parking lot behind the house we find this beautiful classic Mustang, this is the second year with the first body, 1966.
---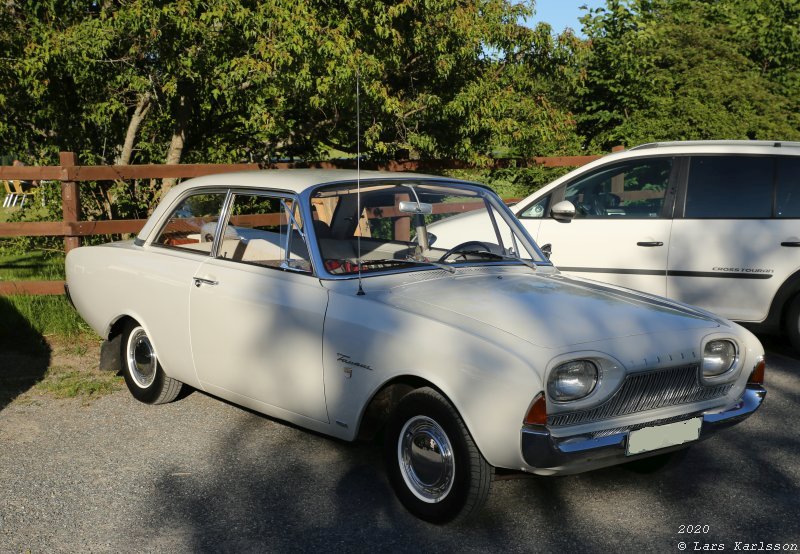 A Ford Taunus from 1962, a very common car in Sweden when I growing up as a teenager.
---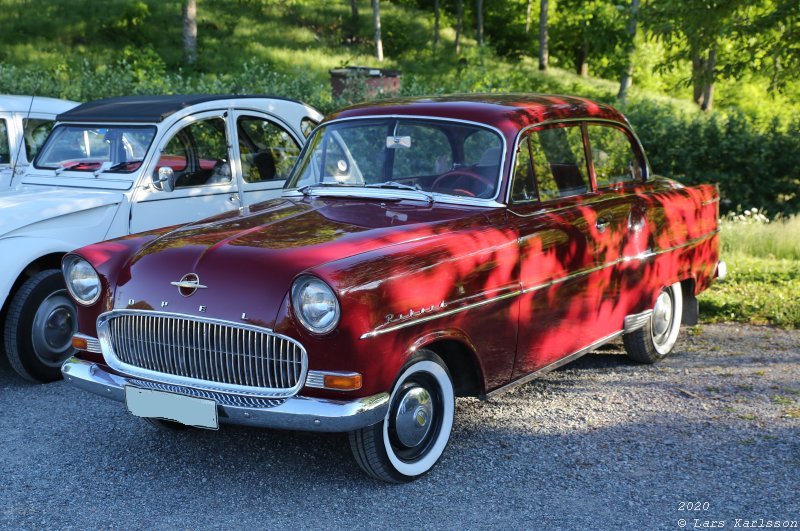 An Opel Rekord from 1957. My father had four of these Opel Rekord, all of them were very rusty !
---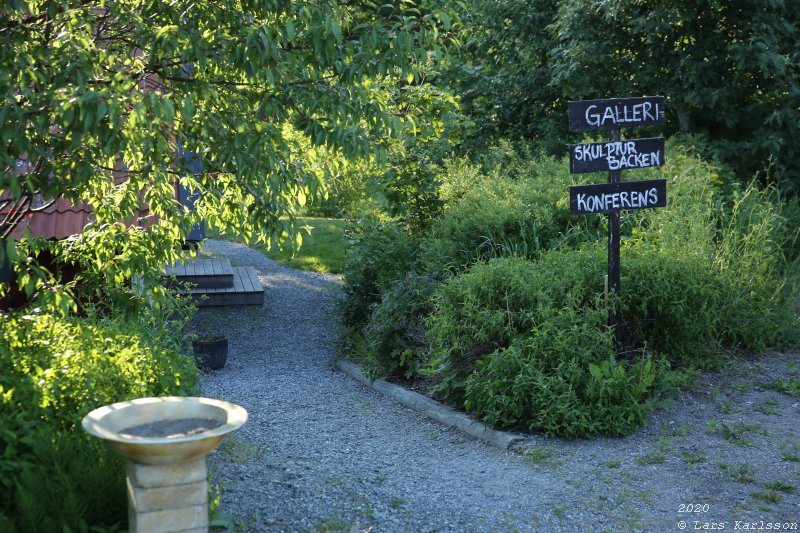 Before we leave I took a walk down to the Gallery to see what's there.
---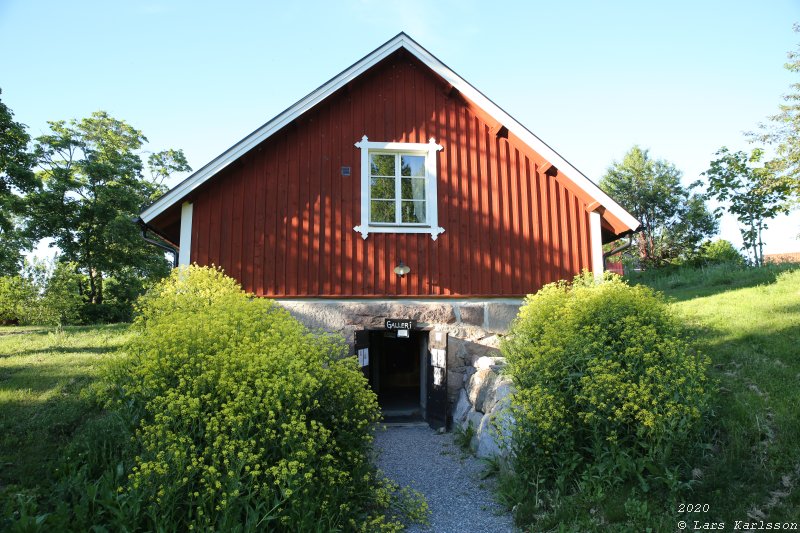 The entrance, it's Mats Eriksson and Lotta Enocsson who has an exhibition of their art.
---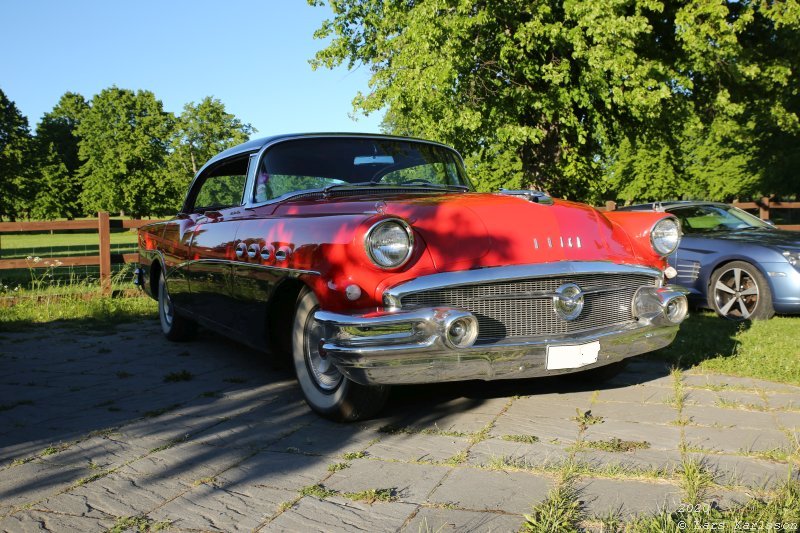 Just when I was to jump in my car and drive home this Buick Roadmaster from 1956 arrived, it's a four door HT (Hard Top). I love these HT cars.
---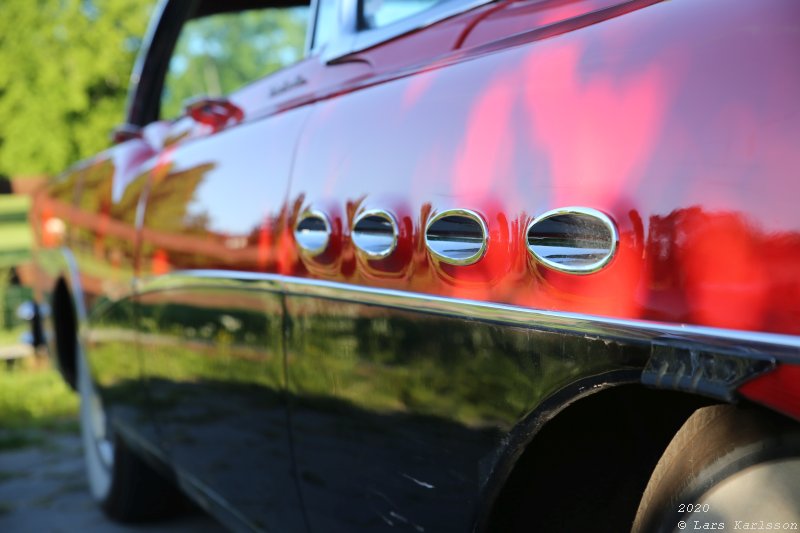 If you find these four port holes on a car it's a Buick.
---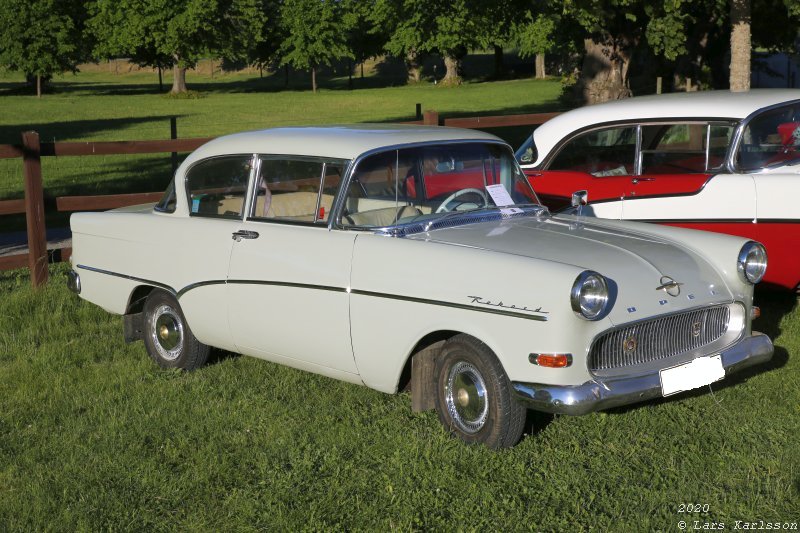 One more Opel Rekord before we leave, this car was made 1960.
Shut down the TV and get out and do something more interesting instead, a few months more and the darkness and cold starts!
---