Comet
Hale Bopp C/1995 O1
---
| | |
| --- | --- |
| Date : | 1997-03-07 |
| Time (UT) : | Early in the morning |
| Lens/telescope : | Konica 28 mm f/3.5 |
| Field (FOV) : | 60x42 degree, before cropping |
| Filter : | none |
| camera : | Konica T3 |
| Film : | Kodac PJM-2, 640 Asa |
| Exp. time : | 30 seconds on tripod |
| Site : | Sweden Midsommarkransen 4:th floor. Bortle class 9 |
| Comment : | The comet hover above my neighbors house. The blue plasma tail and the white dust tail is visible. These days I prepare for a visit to the observatory NOT at La Palma. Together with the French astronomers we shall study the comet and its tail. |
---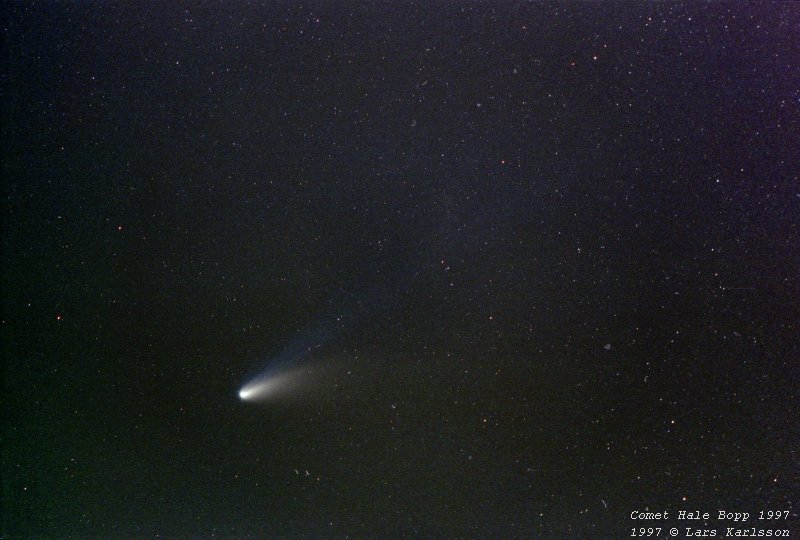 Object :
Comet Hale Bopp C/1995 O1
Date :
1997-03-06
Time (UT) :
20:00 ??
Lens/telescope :
Konica 135 mm f/3.5
Field (FOV) :
15x10 degree, before cropping
Filter :
B2
camera :
Konica T3
Film :
Kodac PJM-2, 640 Asa
Exp. time :
30 seconds on tripod
Image process tool :
Gimp, IrfanView. Film scanned at 2400 DPI 48 bit (3x16).
Processing :
Correct for the vignetting and background. Increase the contrast a lot.
Site :
Sweden Saltsjöbaden. Bortle class 6
Comment :
This is a later attempt to process the image a bit better. The film is scanned at 2400 DPI and with 16 bit depth each channel. The big problem is to get rid of the background to get the weak details in the tail visible.

Comet discovered 1995-07-23, then it was outside Jupiter's orbit.
Earth closest approach 1997-03-22, 1.315 AU.
1AU (Astronomical Unit, distance Earth-Sun)=150million kilometers.
The blue tail is the plasma tail and the white is the dust tail. The blue tail is always pointing in the direction out from the Sun.

Only one year after the super bright comet Hyakutake we got this, comet Hale Bopp with the brightness peaked at magnitude -1 too.
---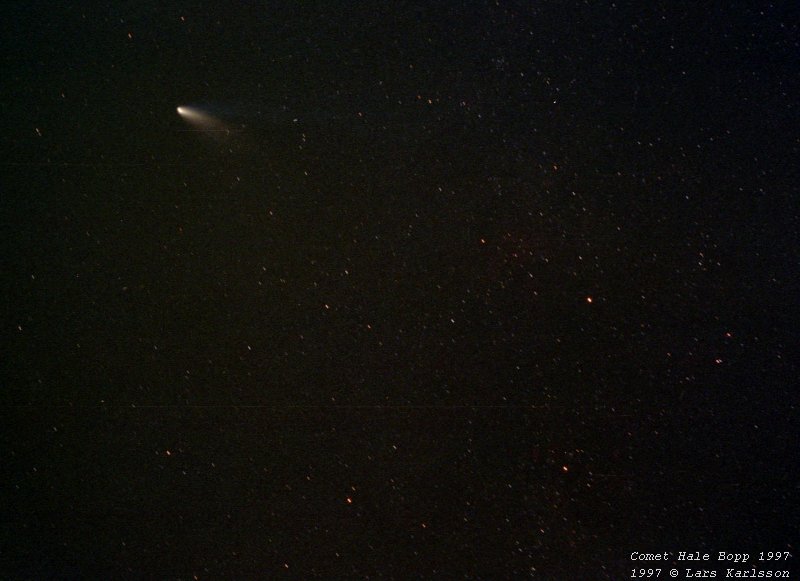 | | |
| --- | --- |
| Object : | Comet Hale Bopp C/1995 O1 |
| Date : | 1997-03-07 |
| Time (UT) : | 20:00 ?? |
| Lens/telescope : | Konica 50 mm f/1.7 (f/4) |
| Field (FOV) : | 39x27 degree, before cropping |
| Filter : | none |
| camera : | Konica |
| Film : | Kodac PJM-2, 640 Asa |
| Exp. time : | 30 seconds on tripod |
| Image process tool : | Gimp, IrfanView. Film scanned at 2400 DPI 48 bit (3x16). |
| Processing : | The vignetting is corrected. Increase the contrast a lot. |
| Site : | Sweden Saltsjöbaden. Bortle class 6 |
| Comment : | This photo taken with a normal lens set to f/4. |
---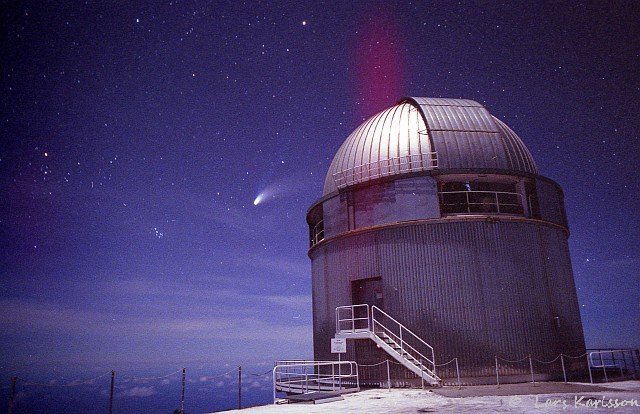 | | |
| --- | --- |
| Object : | Comet Hale Bopp C/1995 O1 |
| Date : | 1997-04-14 |
| Time (UT) : | 19:00 |
| Lens/telescope : | Konica 50 mm f/1.7 |
| Corrector/Barlow : | none |
| Field (FOV) : | 39x27 degree, before cropping |
| Filter : | none |
| camera : | Konica |
| Film : | Kodac PJM-2, 640 Asa |
| Exp. time : | 15 seconds on tripod |
| Site : | Spain La Palma NOT observatory 2200m osl. Bortle class 2 |
| Comment : | NOT, Nordic Optical Telescope and Hale Bopp. To the left the Pleiades. My view of the comet from 2'200 meters above sea. One of few moments when we had a clear sky. |