Observatories that I have visited:
Sardinia Observatory
---
The Sardinia Observatory
---
This year 2017 we decided to go to Sardinia island in Italy. We go there to find beautiful places and relaxing if we now could talk about relaxing when driving the whole island around in one week. But is there anything related to astronomy on this island?
I googled and found these three candidates:
The museum sounds exiting but we decided to not go to that place. The radio observatory could had been exiting to see. But we thought that will be out of reach. They don't like interference from radio sources like mobile telephones.
The Sardinia amateur Astronomy Observatory, we found that it was straight ahead on our way back to airport and according to the homepage it is very advanced. They also have a guided tour on Fridays. We go back to Sweden on Saturday and couldn't stay very late on Friday, but maybe we will find the stuff there preparing for the guided tour later. I sent an email to them in English, got an answer back in Italian. We know from earlier days here that many Italians do not speak English and we don't speak Italian either. But we took the chance that we could get close and see the observatory from outside.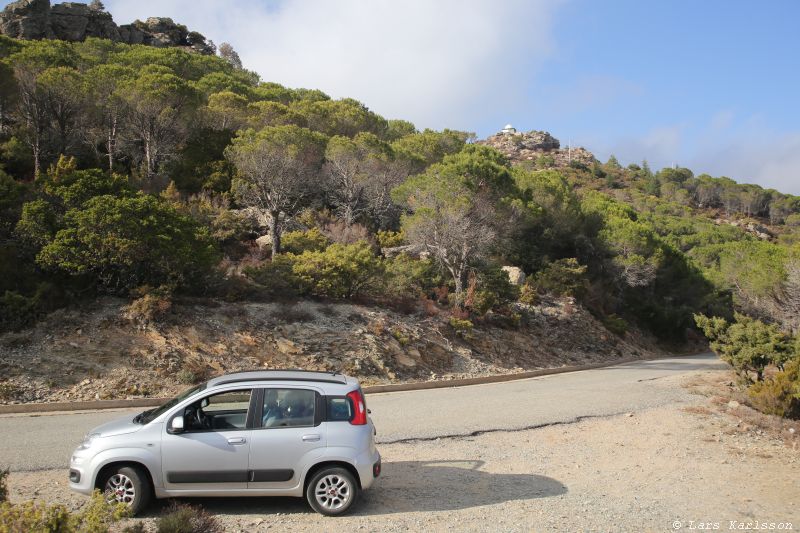 After many kilometers slow driving on the curved roads we for our first time could see the observatory. The road up here is fine, but don't drive your first time here in darkness! There is a small village with hotel not far from here, maybe 5 kilometers.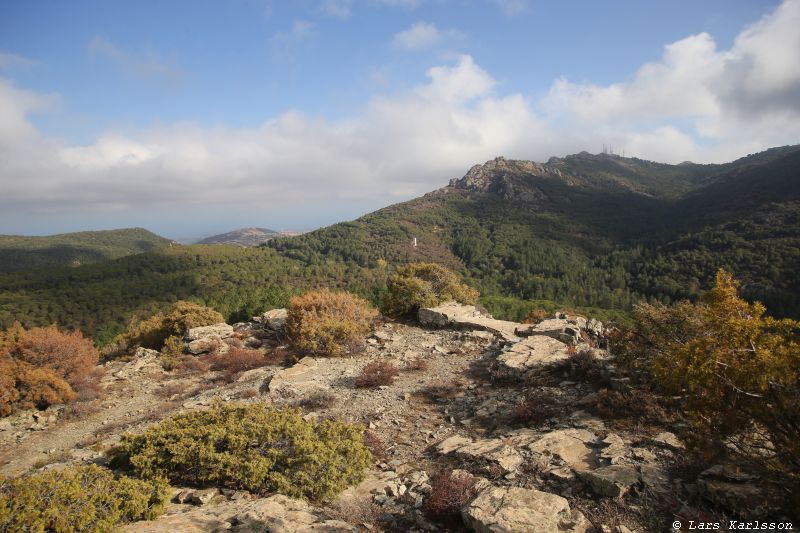 The view is fantastic from this place and we shall go even higher.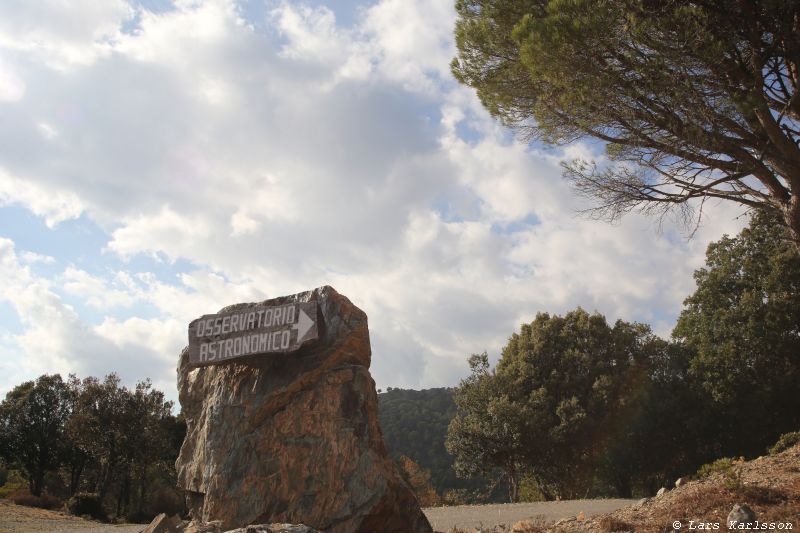 At close to the summit there is a smaller road the last part. Steeply uphill and full of big holes in the road. But no need for a four wheel drive car and it's just a few hundred meters.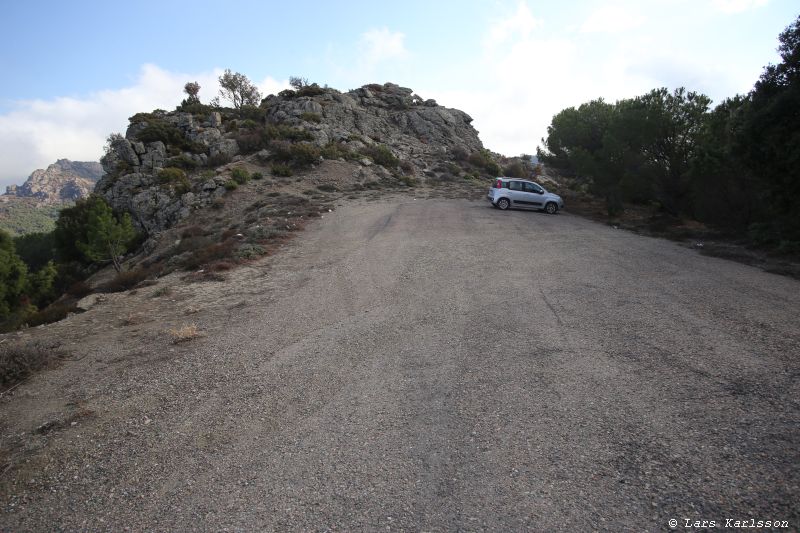 An even more steeply uphill road take over from here. But we parked the car here and walked upwards the last part.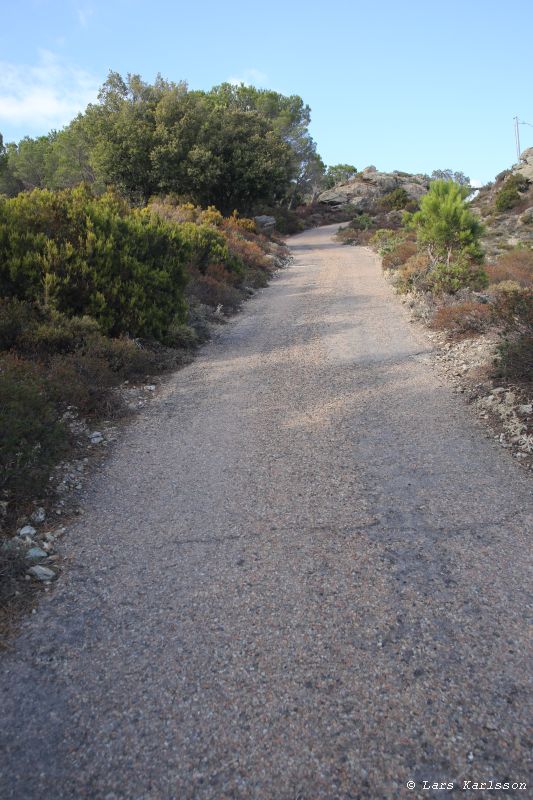 Half way up we took a break to get some air, this is about 1100 meters altitude, good for astronomy but we have spent the last week siting in a car, we feel that now!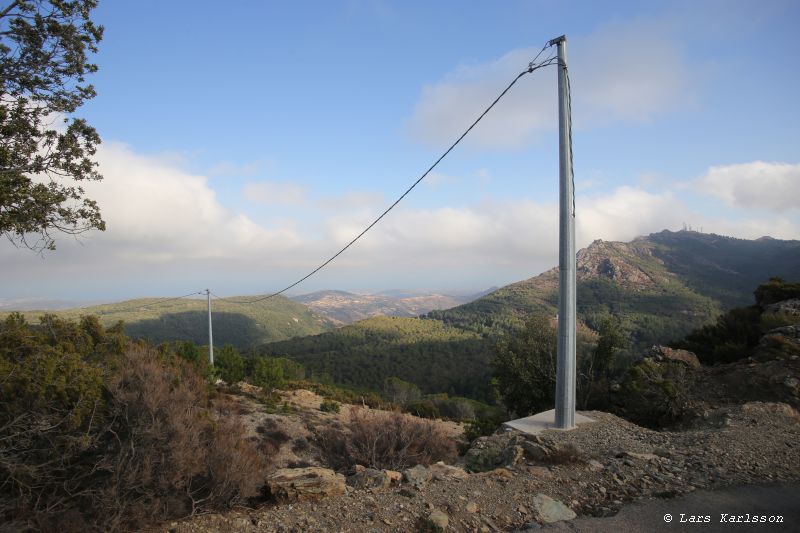 Strange, a big power cable up here, how could they afford that?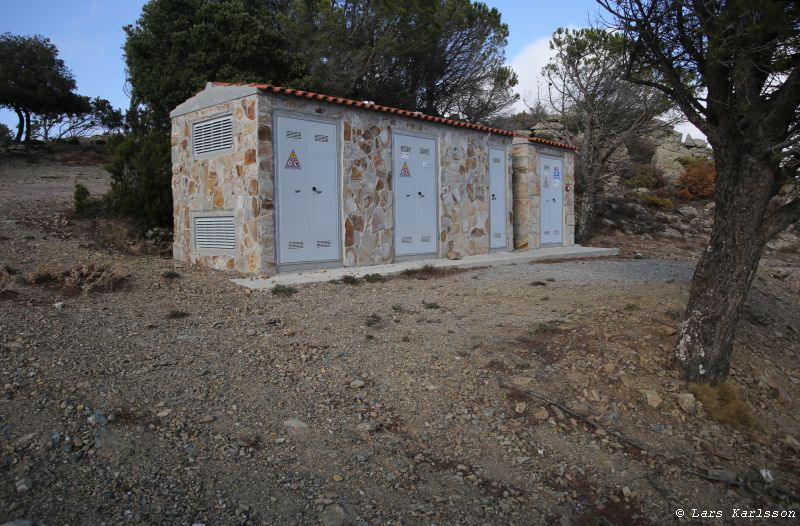 The power station, there must something else here that use a lot of power and need the fine road up here.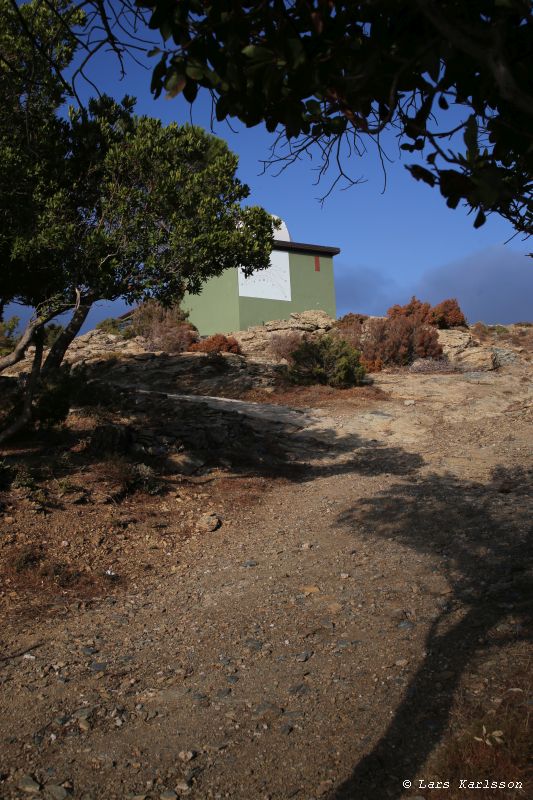 A first glimpse of the observatory in close distance, looks good.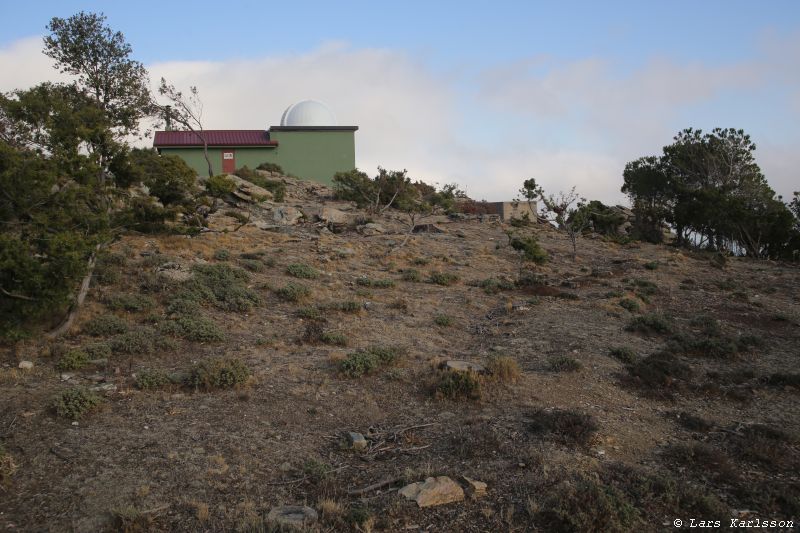 It's a big house built in concrete or stone. The part to the left must be the control room.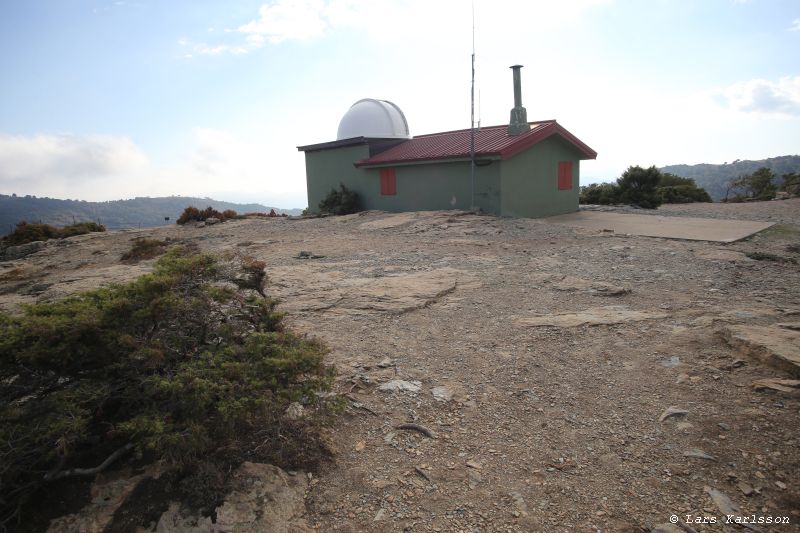 The summit is very flat and no trees block the view.
This is in the middle of Sardinia close to the village Gairo Sant 'Elena, about 5 km away.
---

(click on the image to get a full resolution photo in a new window)

Here is an attempt to do a panorama photo, but with handheld camera and wide angle lens it isn't very easy to stitch together.

When I'm doing more complicated stitches of images I normally use the Hugin sotware, it's free: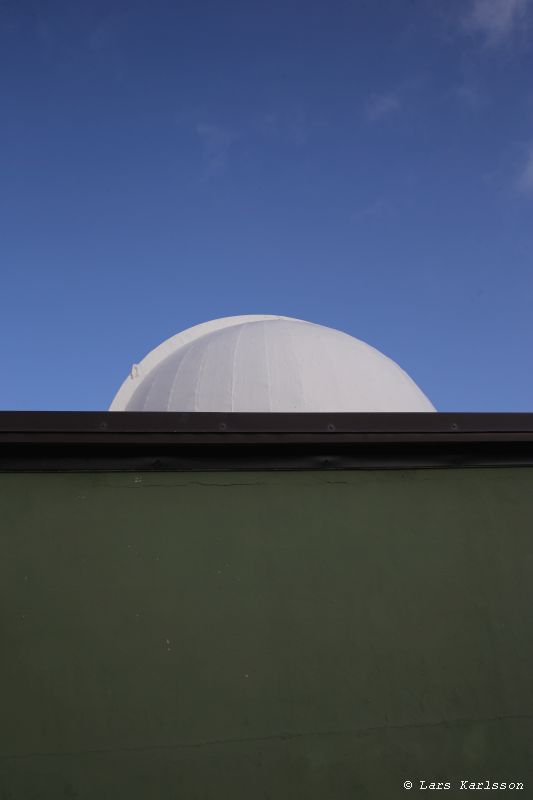 Is the doom built in aluminum or something else?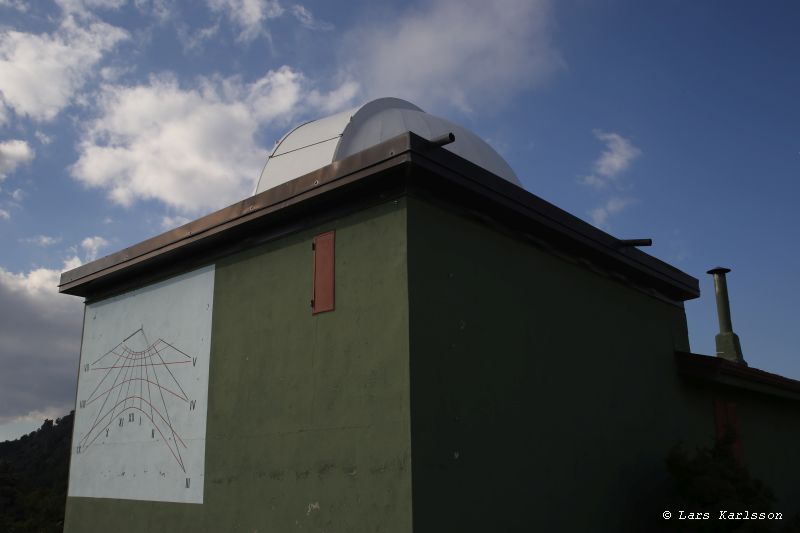 On one wall there is a big solar clock.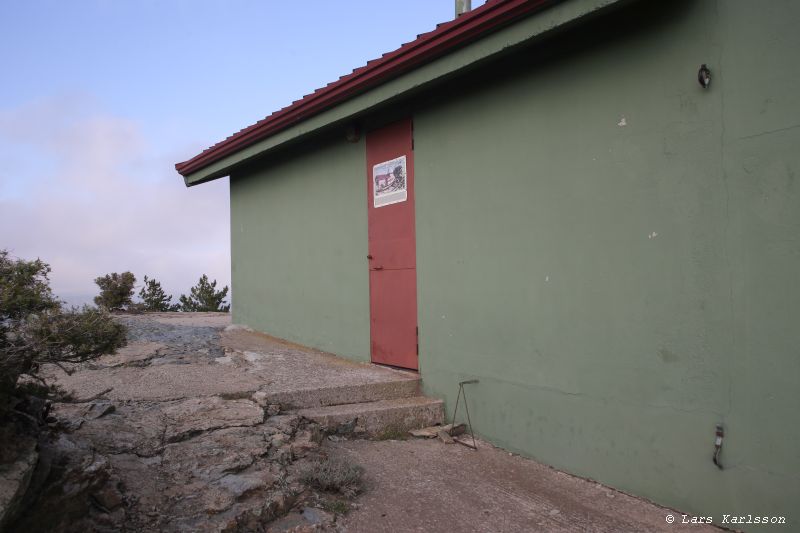 The door to the control room.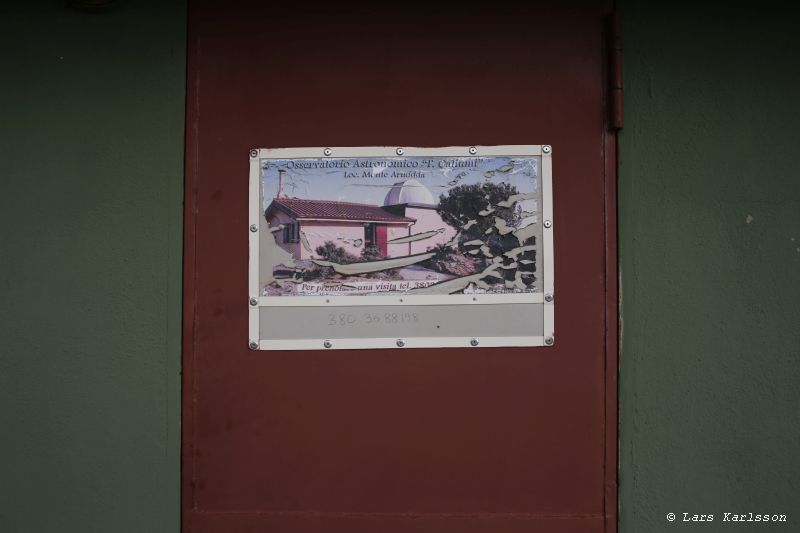 Knock, knock... is there anyone inside here? No.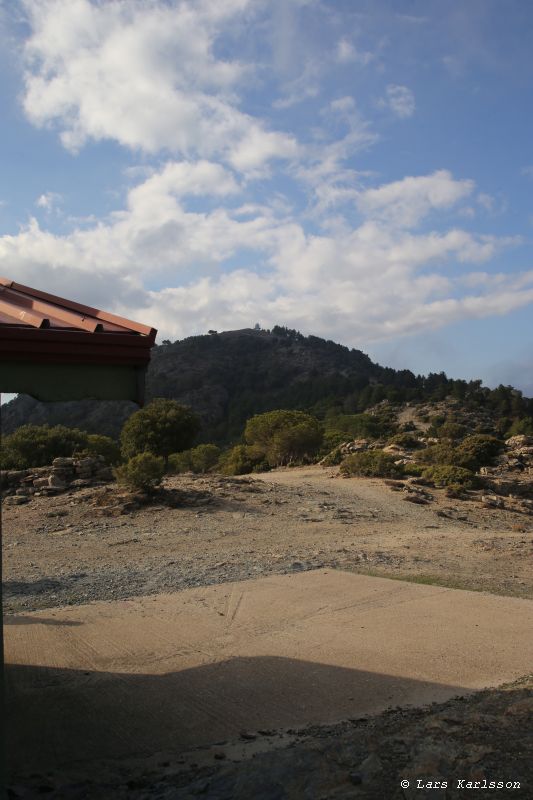 Up on the summit in back ground there is a radar station, maybe for the weather forecast. That explain the fine road and the hefty power cable.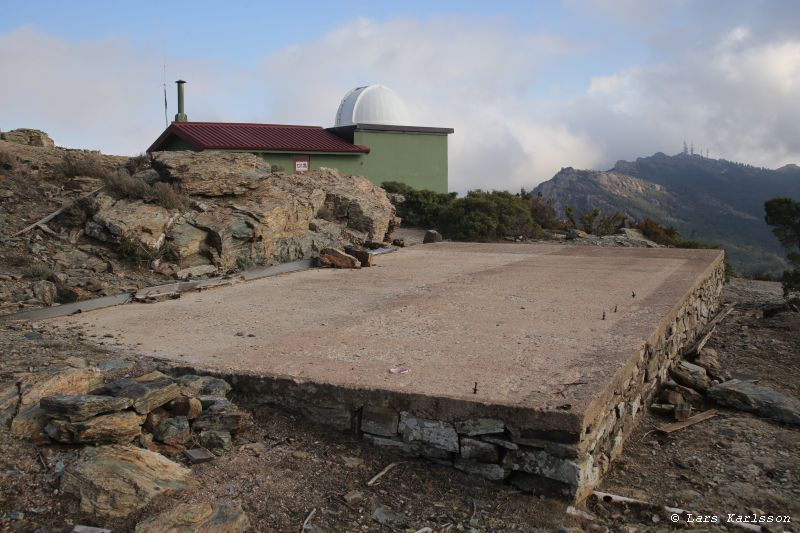 There is an platform on the backside, it looks that an older observatory have stood here. Perfect place to stand on now if you come with your own portable telescope and mount.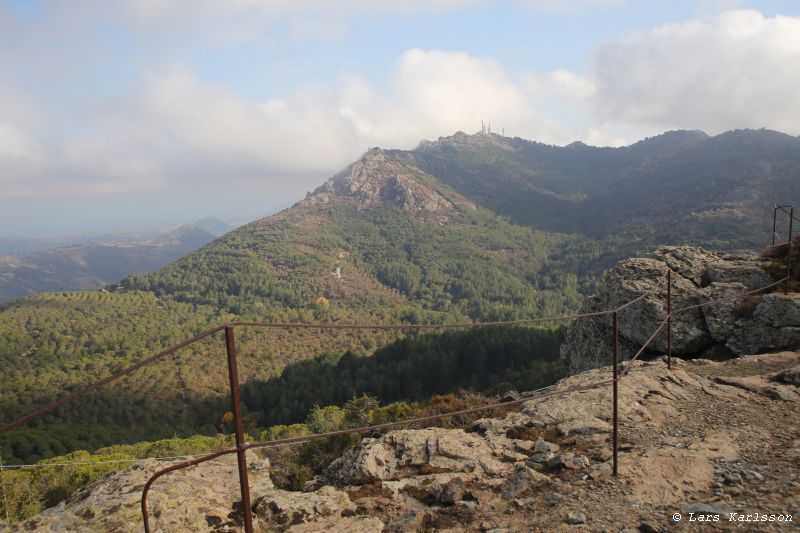 A last look at the beautiful view before we leave. We took the road on the backside down, much more narrow and horses and cows crossed it.
You can read more about our Sardinia tour here: Sardinia Tour on my travels page.

back