Debris finder, PolCor-2
An instrument to detect debris around young stars
---
Content:
---
5: The instrument, PolCor-2
The actual camera is only one part of this instrument if we talks details. The name of the instrument is PolCor-2, what it stands for? We answer that later. The mechanical device, or the chassis, can be studied in the image below. The chassis is built of aluminum and has mounts for mounting on a telescope and is primarily meant to be used at the NOT, Nordic Optical Telescope.
The optical beam from the telescope passes in PolCor-2 unit parts successively as follows (this is an early drawing and differ in details from today's chassis):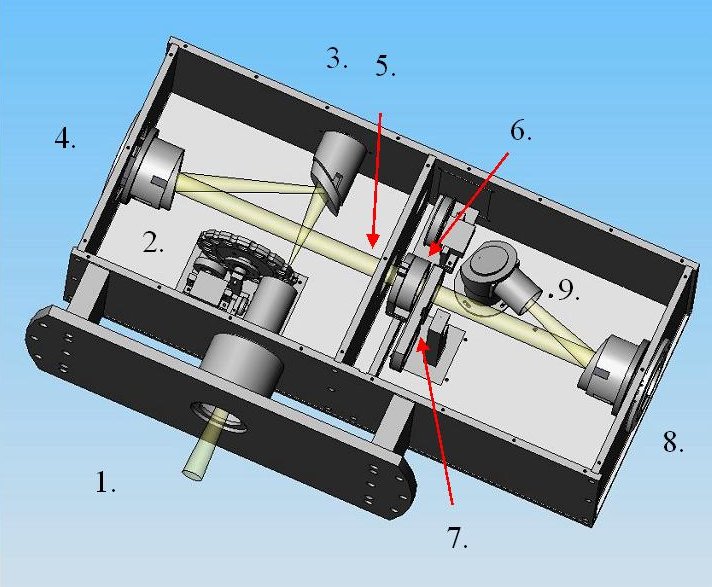 The chassis of PolCor-2 holding the camera, the mechanics and the optical parts.
Mechanical fastening plate against the telescope.
Revolver with coronagraph. Here is the telescope's focus.
Plane mirror. Its function is to "fold" together the light beam to save space.
Segment of a parabolic mirror. Make the divergent beam parallel.
Filter holder (not illustrated).
Lyot Stop, Fourier optics.
Polarizer.
Segment of a parabolic mirror, focus the beam again, now towards the camera.
Plane mirror. Folding down the beam toward the camera. The camera is located on the underside.
---