My astronomy project:
EQ6 Mount, wedge rebuilding
---
Contents:
Note:
I take no responsibility or liability for what are written here, you use the information on your own risk!
---
1, Introduction, EQ6 wedge problem:
I like my EQ6 mount and it is good value for the money it costs. But there are some weak point in the construction. One of them is the altitude polar align adjustment of the wedge. When living at 60 degree latitude as I do it doesn't work very well.
---
First a short explanation why this altitude adjusting working that bad.
EQ6 mount, wedge problem: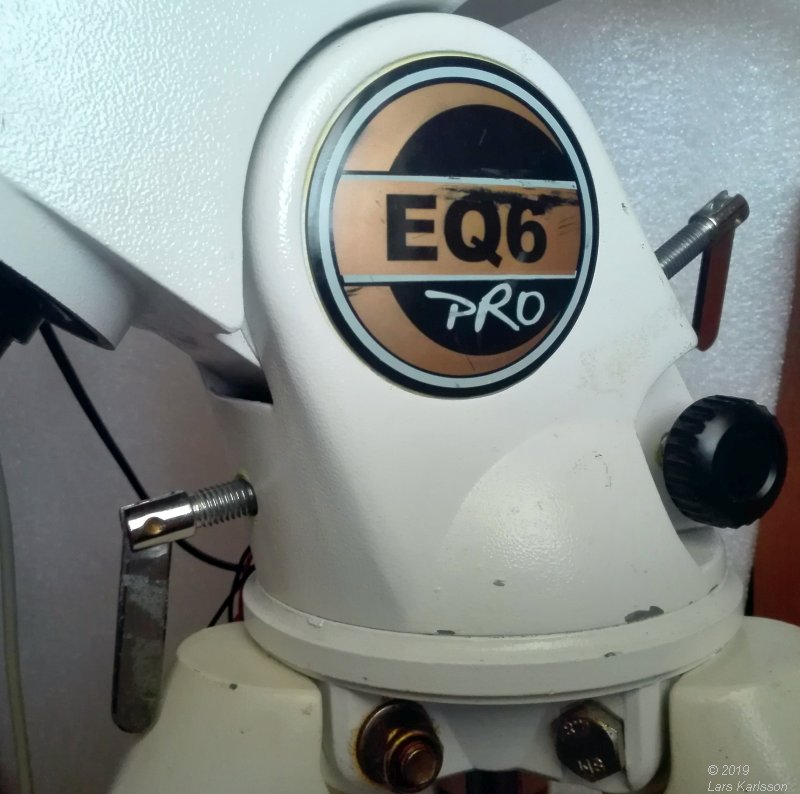 This is how the lower altitude screw adjuster looks when living at 60 degree latitude as I do in Sweden. Almost all the way in, inside the mount there is a heel (stop) that this screw push against.
---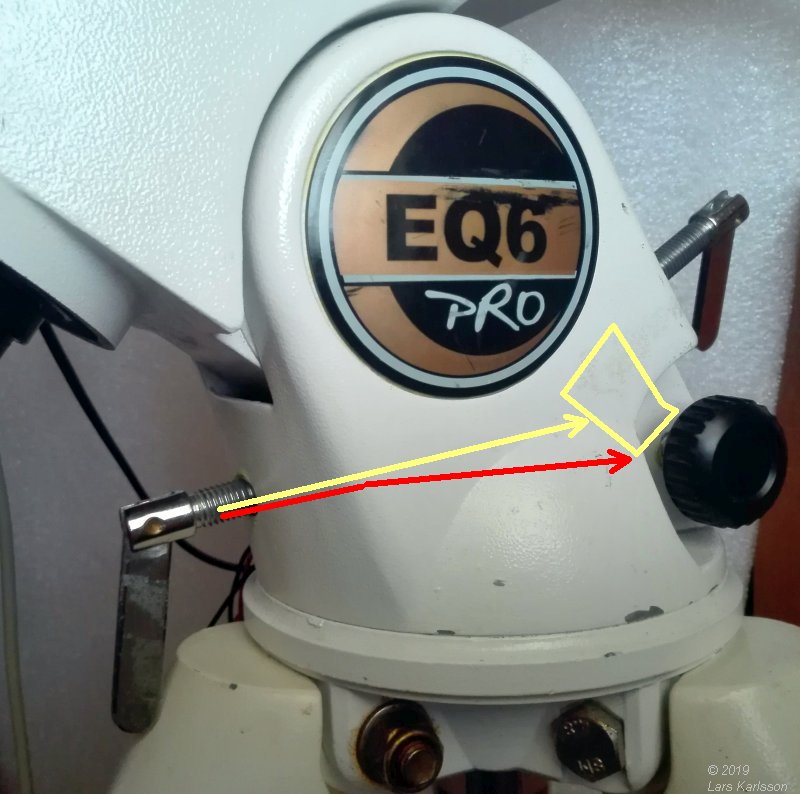 This is a "X-ray vision" how it looks inside and what's happen there. The screw, the yellow arrow will slide along the stop because of the angle. More force on the screw and it will bent like the red arrow. It can be stuck there and problematic to get out. And of course the altitude adjustment you do when polar align will not work very well. Something has to be done to solve this problem.
---
Solutions I have found so far:
Here I starting a study of what others have done and what equipment there are to buy or to make to solve this problem. One solution is of course to buy another mount, if you can afford it. There are other alternatives which I will list here.
---
1: A new wedge:
This solution for sure will work, but cost some money.
---
2: A complement with a sliding rail:
Maybe not that bad, not that expensive either.
---
3: A new heel is mounted with a different angle, something I can do myself:
Almost no cost but some work.
---
4: Another new clack solution:
This is not difficult to do either.
---
5: Spring loaded bolt.
A friend to me has worked out his own solution with a spring loaded bolt. It works well is reported.
---
6: A fix which also get a no meridian flip:
This is something I have thought about a lot, but it cost about the same as I once paid for the EQ6 mount.
---
7: My own idea of a no meridian flip mount:
Haven't started whit this, if I have to spend that much work and time I also want to get rid of the balance weight, a fork mount.
---
8: An one arm fork mount:
Very nice looking, and there is no worm gear, they used a timing belt "gear box". But it's not cheap.
---
Now I have the whole winter to think about this and a working solution. Normally I do part of the construction or at least something by myself so lets see how it develops. Now when I have a 3D printer I will try to use some 3D printing to solve this.
---