Project:
EQ6 mount and 300 mm lens setup
---
Contents:
Note:
I take no responsibility or liability for what are written here, you use the information on your own risk!
---
1: Introduction
More than a year ago I bought an used Canon 300 mm L f/4 lens to be used in my astronomy hobby. I have it together with my full frame Canon 6D DSLR. A 300 mm focal lens on a full frame camera is very interesting, there are a lot of objects that fit that focal length. I did some test on my Star Adventurer mount, but it overloaded the mount and about half of the photos had star trails. I can do a more carefully setup and even auto guide it in the RA axis. But I also wanted a GoTo function and I didn't spend more time on that setup.
Now with all rainy days we have had I got inspired to make a new setup. The idea with the wide field 300 mm lens is to catch some nebulosity objects, they need a dark sky background and I must have my equipment portable to come to that places. Until I have found a light and strong mount I can do some setup test on the heavy EQ6 platform on my balcony. As you will see there will be much more than just change the telescope to the 300 mm lens.
I have only tested this lens once, that was enough to convince me to spend a bit more time on how to develop it. Have a look at the full resolution photo:Andromeda with 300 mm lens. I have done a simple test of my lenses where you also find this lens, analyzes of vignetting.
---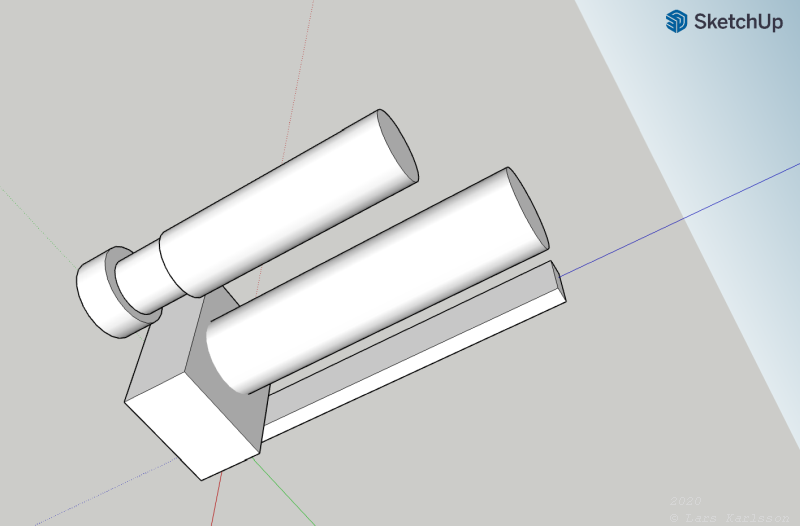 This is one configuration, the guide camera stacked on top of the main camera. A very compact and light camera system. But I miss a lot of the items I need to set it up like this, that will be a perfect project for my 3D-printer in the future.
---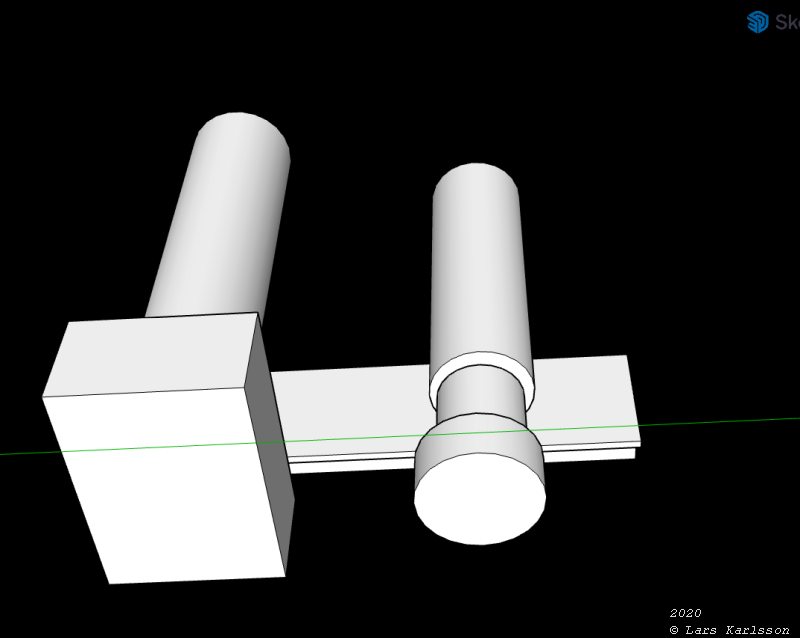 With a horizontal arrangement with the Vixen dovetail rotated 90 degrees I can have it like this. The Vixen style dovetail I have for this purpose is much heavier but it doesn't matter for the moment. It's very wide and have a lot of holes that I can use when attaching different equipment. It's very easy to add or remove components but It's not a symmetric arrangement and it will be more difficult to balance.
---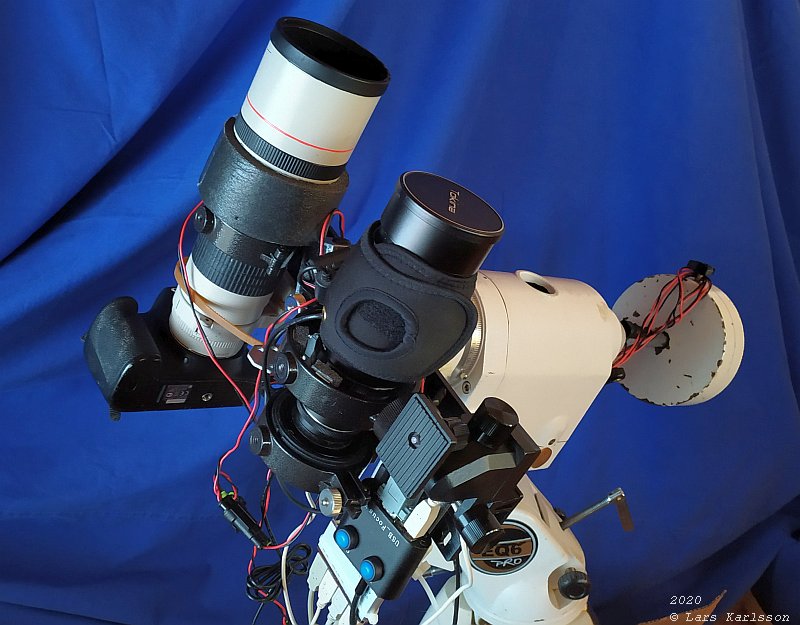 This was what I found in my boxes. The Canon 6D with the 300 mm L f/4 lens at top. In middle the QHY5 guide camera. Sorry to say I have sold all my old lenses and the guide telescope to the APO refractor is a too big, a 400 mm lens. You should never sell anything that you maybe need in the future :-) . But I remember when I visited a flee market yesterday that I saw some old used lenses. I rush out and away to the flee market and hope they are still left. I found a Tokina 200 mm f/3.5 lens with Pentax M42 connection, perfect. The Pentax M42 is very easy to connect to T2 threads and with threads it's very stable too compared with a bayonet mount.
Both lenses has heater band mounted, a 12-volt home made on the 300 mm lens and an USB 5-volt dew heater on the 200 mm lens, the latter has a bit too high power, to much heat and the lenses deform but it's only the guide camera. When setup as a portable system everything must use as low power as possible.
At bottom an extra mount for my friends cameras, it can support a 50 mm lens. With the software APT I control my camera, it can support more than one camera and still do dithering. Here is information about that: APT Multi -Camera Operation, I have no experience from that function. I asked at the APT forum and Ivo at ATP answer: "Many are using APT's multi-camera feature, I think the record is 4 simultaneously running cameras so far".
---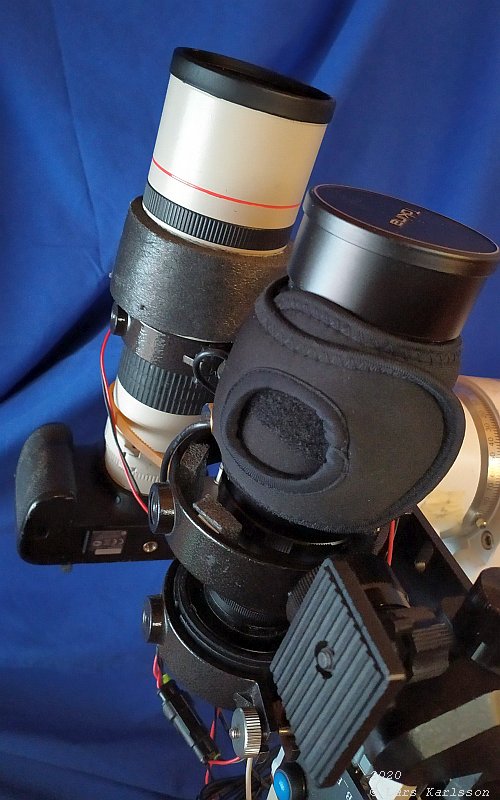 The 300 mm lens is mounted with the Canon original support and at front a complement with a 75 mm tube ring. One 75 mm tube ring squeeze around the guide camera house. In front of the guide lens I have a 95 mm rube ring, too big, I have to replace it with a smaller tube ring, or 3D-print one later. Now when I change from 400 mm f/5.6 to 200 mm f/3.5 I get the twice field and 2.5 times more photons per pixel when using the same guide camera.
When I put above system included the Vixen dovetail on the balance I can read 5.2 kg. Far too much for Star Adventure mount but a HEQ5 mount would handle it gallantly with high precision.
---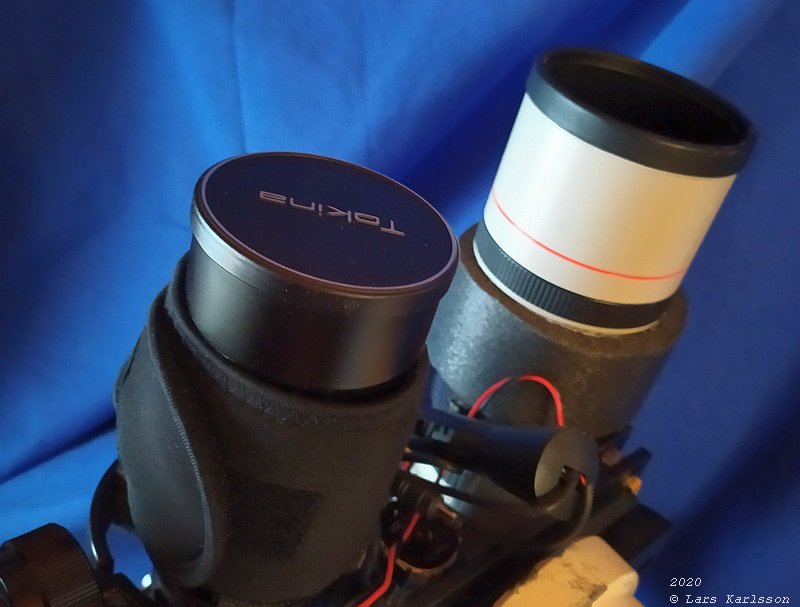 The front of the two lenses with there dew heater bands. I would order two new dew heaters, I think the small narrow used for eyepieces will fit perfect. They have the power of 11 Watt, too high but with a regulator I can adjust the power, or I can connect them to USB 5 volt and than reduce the power to 2 Watt. My own built dew heater has the power 1.6 Watt and it's enough. Low power deform the lens less and save power.
The small electric device between the lenses is a 12 to 5 volts converter, it power the USB hub.
---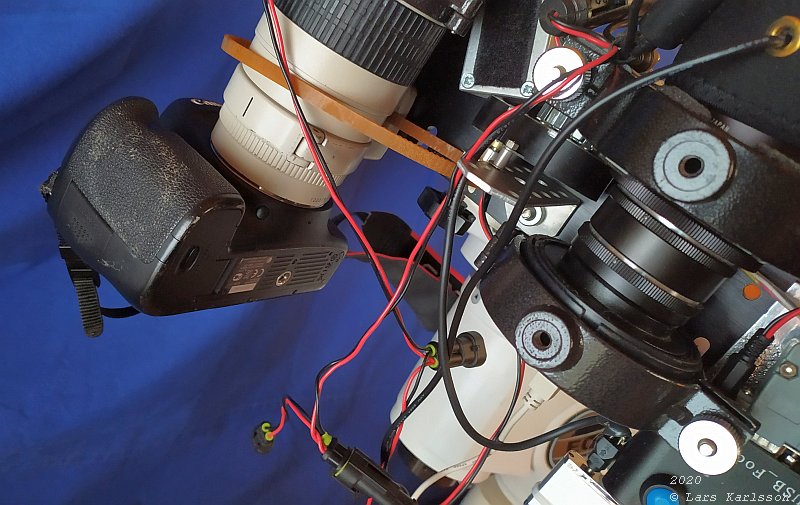 The Canon lens has a built in focus motor, but it's vey difficult to use it in an astrosetup. You must turn on / off the manual / automatic focus switch every time you do a remote focus on the PC or Raspberry. I was first planning to have a tooth belt (the brown belt above) around the lens and use my USB-focus motor (middle version, 1.5 kg load). I can 3D-print a tooth pulley and mount on the lens barrel otherwise it will slip. The motor is too weak for my telescope but should work okay for this purpose. The shiny box with a black tape on is the 8-volt power supply to the focus motor. But still, a stupid solution when there is already a high quality motor built into the lens.
The guide camera has an extender ring and a T2 to Pentax M42 adapter to adapt its back focus to the lens, I have to fine adjust the extension width later.
Long time ago I read about a project where they did some signal processing of the commands between Canon camera and Sigma lenses, old Sigma lenses have problem to connect to modern Canon cameras. I thought, maybe there is something new in this area, and maybe a solution that is Ascom compatible, I found this:
Very interesting, and the cost is less than a new focus motor. Something to investigate more about in the future, but I can't use it together with my DSLR camera, it must be a camera with a shorter back focus to fit the adapter between.
---
To right, the control box that control the USB-focus motor. Below is the powered USB hub.
---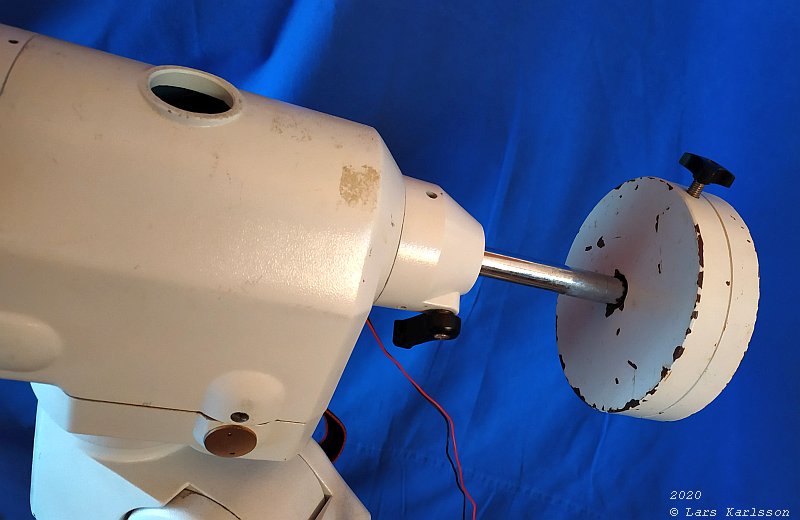 Without the big APO refractor the setup is much lighter and I only need one of the balance weights. To make it fully portable I must have a lighter mount, maybe the HEQ5.
If the rain stops and we get a clear sky I can already now do a test from the balcony. If it works well I will start search for an used and cheap HEQ5, make some modifications to have the setup more power efficient. Maybe my Raspberry project will get into it again. Have a look at my other ongoing 3D-printer projects: 3D CAD and Printer .
---